---
By Jaz McKay
UPDATE: After two mass shootings in under two weeks that didn't seem to involve white supremacy, the left has pivoted to gun control. But even more interesting is the fact that they are also using these two incidents to try to gain support for ending the filibuster.
On Tuesday, Rep. Ayanna Pressley (D-MA) posted a tweet calling on Senate Democrats to end the filibuster so they can ram through their radical anti-gun agenda without having to worry about Republicans blocking the measure. "The trauma of gun violence in our communities is endless," she wrote. "It's time we abolish the filibuster and pass meaningful gun control legislation—background checks, automatic weapons ban, gun licensing, and so much more. Enough is enough."
Left-wing media activist Wajahat Ali also chimed in. "Another mass shooting in Boulder. We just had one in Atlanta but we won't have gun control because of the GOP. Yet another reason to end the filibuster," he wrote.
Mother Jones' Ari Berman also tried to use the deaths of those who died in the mass shootings to push for ending the filibuster. "After Sandy Hook shooting in 2012 bipartisan legislation requiring background checks for gun sales was supported by 86% of Americans & 54 senators but blocked by 46 senators representing just 38% of country This is why we need to abolish filibuster," he argued.
Justin Krebs, a campaign director at progressive organization MoveOn sent an email to the group's supporters using the mass shooting in Boulder, Colorado to push for ending the filibuster and to raise funds. He argued that the filibuster should be ended because "the filibuster—a Jim Crow-era relic invented by pro-slavery senators before the Civil War, that has a history of being used to stop civil rights laws, prevent the passage of over 200 anti-lynching bills, and enshrine segregation—is now being abused by Republicans to entrench their minority power."
The list of leftists calling for an end to the filibuster so they can enact anti-gun legislation is long and distinguished. But guess what is missing? That's right – none of these people have bothered to explain how the laws they wish to pass would have stopped the shootings that happened in Atlanta and Boulder. In fact, this is the usual reaction we see from the gun-hating left whenever a mass shooting occurs.
The reality is that the left can't explain how their proposed gun laws would make anyone safer because their proposed gun laws won't make anyone safer. It's that simple. In fact, making it harder for law-abiding folks to obtain firearms will only make them less safe from mass shooters, murderers, thieves, and – the government.
But they have to play the game, don't they? They have to make empty promises of how the nation will be safer if they outlaw certain weapons. Democrats realize they can push these laws without explaining how they will help because everyone is emotional after these tragedies. When people are devastated by this type of senseless death, the left can more easily sell their illusions. This is why it is important for those who value the Second Amendment to continue reminding the public that the Democrats' solutions will not affect positive change; they will only make us more vulnerable.
---
New information from a national security agency suggests Boulder shooter planned to target the Trump rally in Colorado Springs, Feb 2020, but decided to wait until the next one on March 13 in Denver but it was cancelled due to COVID.
Via Daily Mail
Ahmad Alissa of Arvada, Colorado opened fire at the King Soopers grocery store at 2.40pm
He killed two people in the parking lot before entering the store, where he killed another eight people
His motive is still not known; when he surrendered to police, he asked to speak to his mother
In Facebook posts over the last 18 months, he complained that he didn't have a girlfriend and hated Trump
Alissa's brother also told The Daily Beast he was 'very anti-social' and has been 'paranoid' since high school
He described him as mentally ill, said he'd been bullied in school and that it was not politically motivated
His sister-in-law said she'd seen him playing with a gun recently but did not suspect him of violence
The victims range in age from 20 to 65; among them was a cop, shoppers and people who were getting their COVID-19 vaccine
The shooting is the seventh mass shooting in the US in a week and comes six days after eight died in Georgia
President Biden on Tuesday called for a nationwide ban on assault rifles and tighter laws on background checks
---
Law Enforcement officials have identified the victims killed in the mass shooting that occurred at a grocery store in Boulder, Colorado, yesterday (March 22nd). Among those killed was a Boulder Police officer who'd responded to the incident.
Boulder Police Officer Eric Talley was among the slain victims, having been the first officer to respond to the scene of the incident that day.
The identities of the other nine victims killed in the mass shooting were identified as follows:
20-year-old Denny Strong
23-year-old Neven Stanisic
25-year-old Rikki Olds
49-year-old Tralona Bartkowiak
59-year-old Suzanne Fountain
51-year-old Teri Leiker
61-year-old Kevin Mahoney
62-year-old Lynn Murray
65-year-old Jody Waters
The media had planned to spend the rest of the week talking about the Boulder shooting, and blaming it on Trump and calling the shooter a 'white supremacists' but will now have to find something else to talk about since the shooter is a Syrian immigrant named Ahmad Al Aliwi Alissa.
The screenshots of Al Aliwi Alissa's social media page show that he was a vidid hater of President Trump. The pages of course were deleted and scrubbed by big tech and the government. Ask yourself why is that?
He's been charged with 10 counts of first-degree murder and was being held at a local hospital due to a leg injury stemming from the shooting.
Officials say that the suspect will likely be moved to the Boulder County Jail at some point on March 23rd.
Investigators say that the alleged motive behind the shooting is "unclear as of this time." We know that's bullshit.
While the suspected shooter's social media accounts have been taken down, some were able to get a glimpse and screenshots of his online postings before those social media accounts were disabled.
The following are screen shots from his Facebook page. You can judge for yourself, was he a deranged, Trump supporting white supremacist, a deranged Islamic terrorist, or just a run of the mill deranged socialist Democrat?
---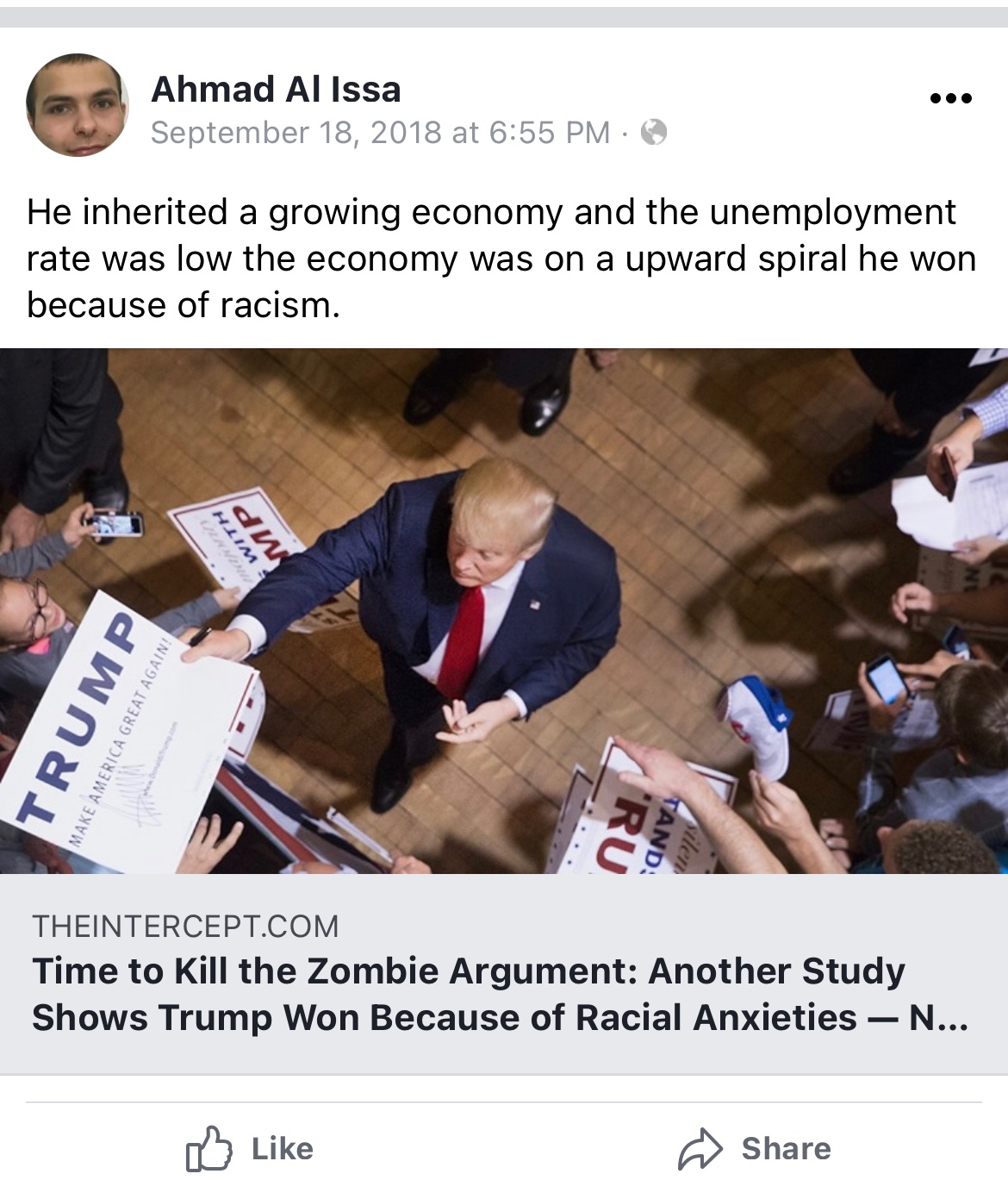 ---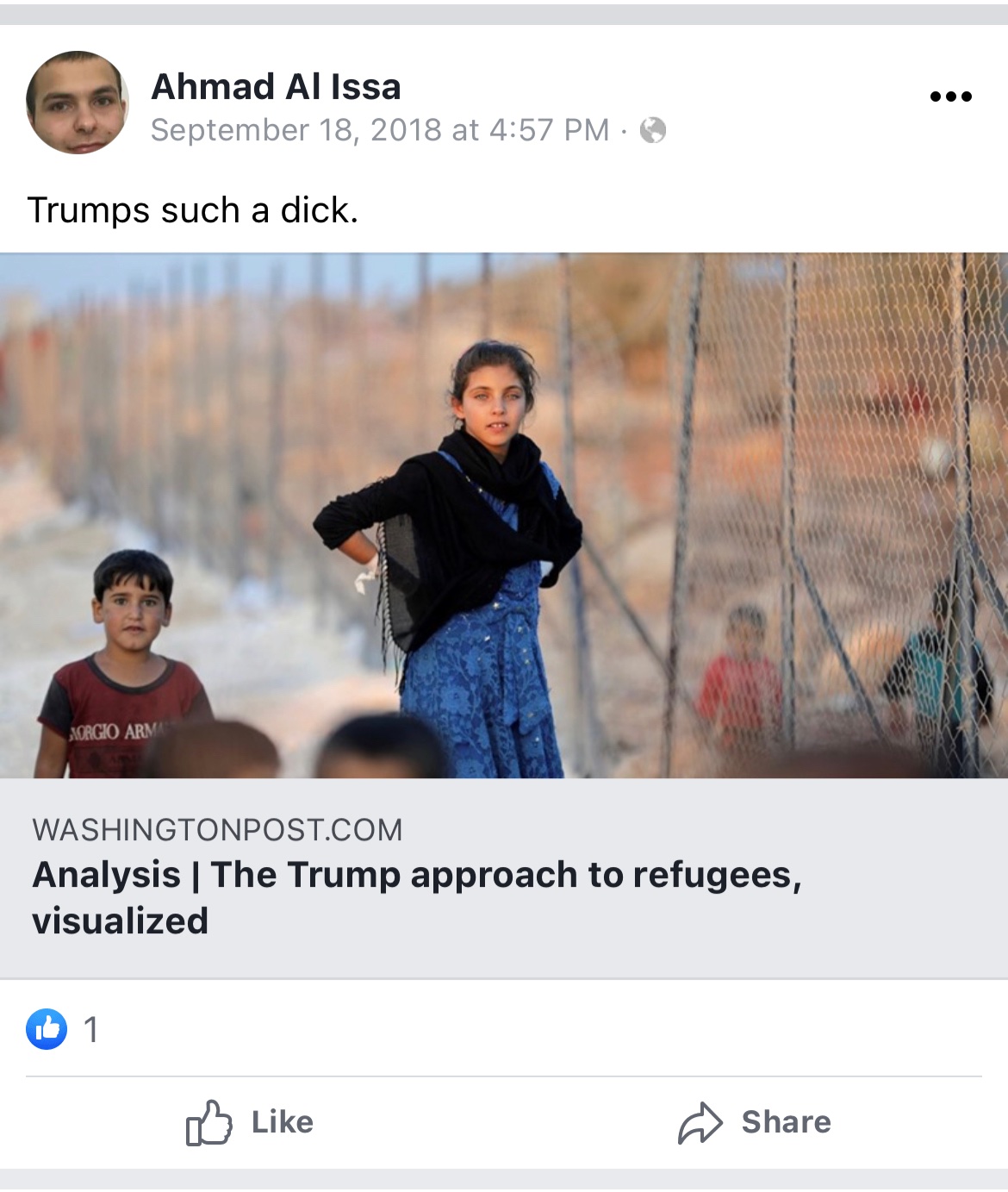 ---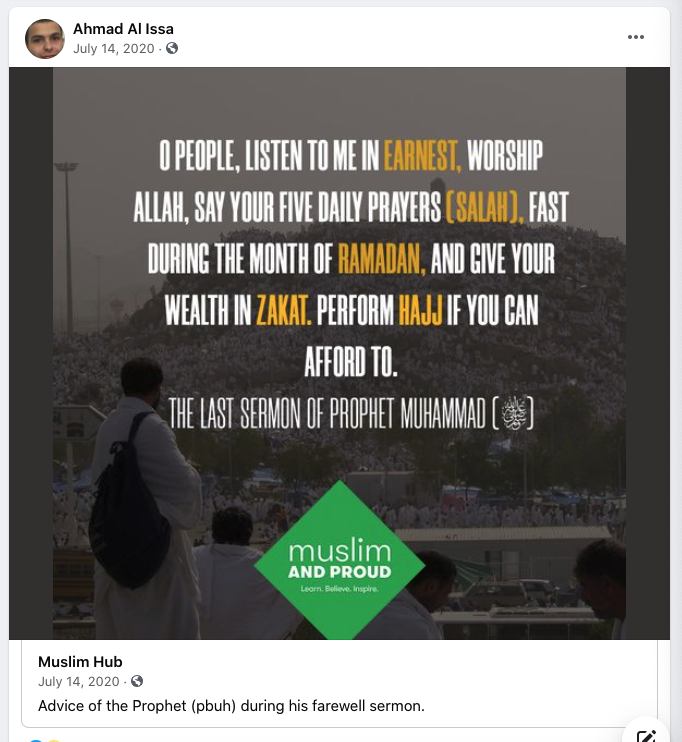 ---
---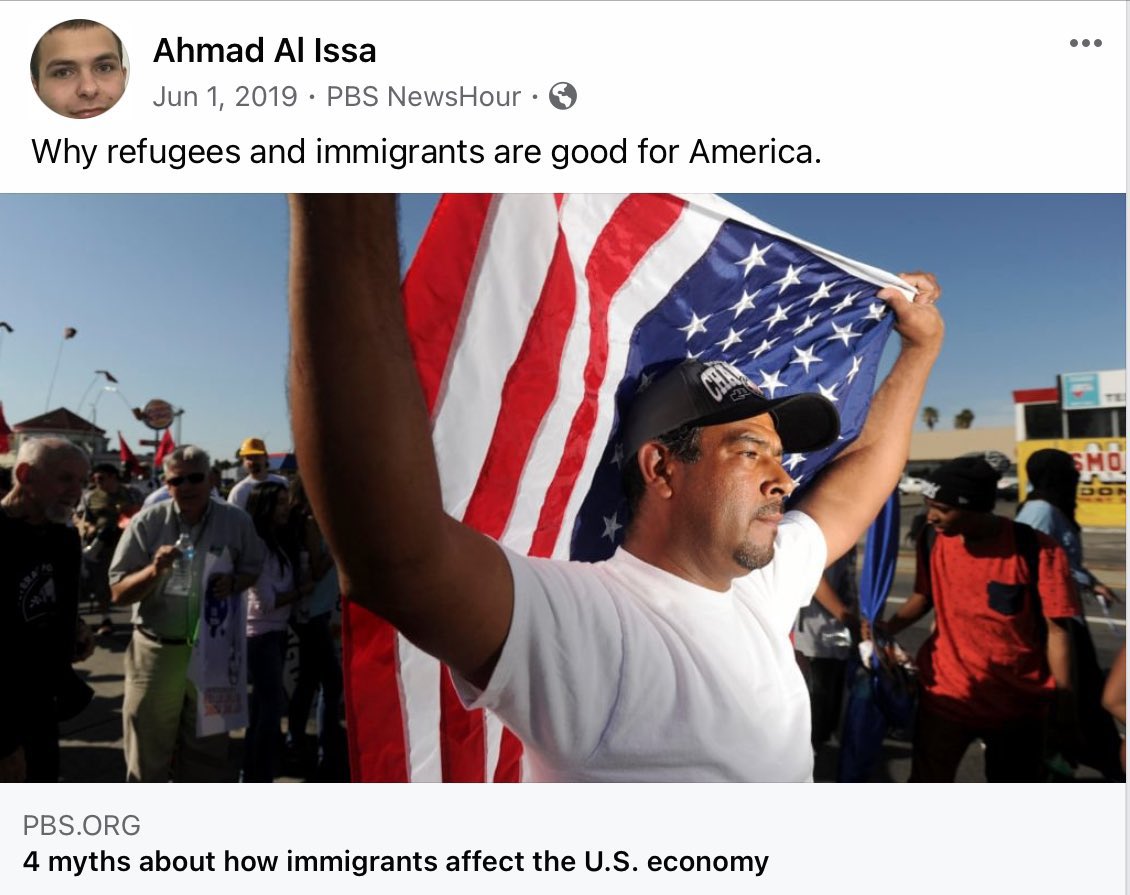 ---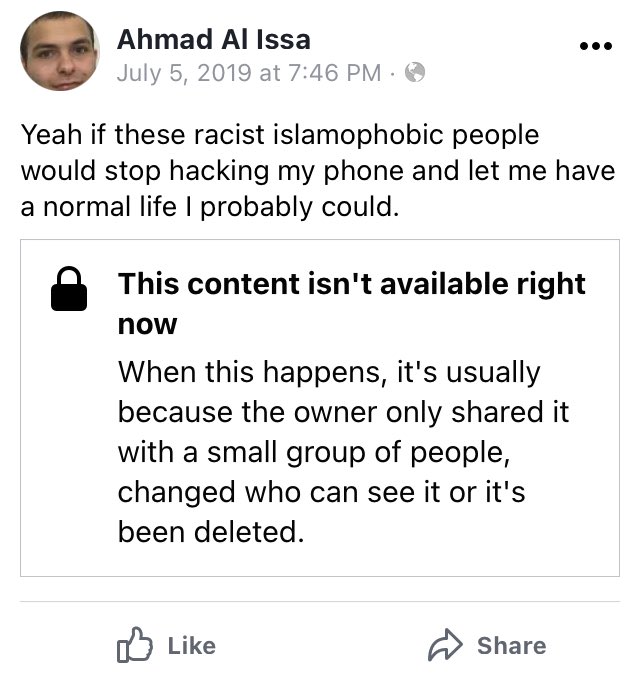 ---
According to a post from Jack Posobiec, President Joe Biden has been briefed on details about the alleged shooter behind the attack:
"BREAKING: Biden has been briefed the Colorado shooter had ISIS sympathies, per [White House] official."
Screenshots of Al-Issa's social media pages have also been obtained by The Post Millennial's Ian Miles Cheong, prior to the page being deleted. The screenshots show that Al-Issa was a practicing Muslim, aruging against Islamaphobia and for increased acceptance of refugees.
---
According to The Daily Beast, the shooting suspect's brother, 34-year-old Ali Aliwi Al-Issa, described his brother as someone who was irrationally paranoid and may have had issues with mental illness:
"When he was having lunch with my sister in a restaurant, he said, 'People are in the parking lot, they are looking for me.' She went out, and there was no one. We didn't know what was going on in his head."
You can sure see signs of this paranoia by some of the screenshots above that were obtained from his social media profiles before they were deleted, such as one post where the suspect wrote that "racist islamophobic people" were "hacking" his phone in order to cause him grief.
---
Andy Ngo has Tweeted more……
This is an ongoing story. More as this develops………
---
Support Free & Independent Journalism
Your support helps protect our independence so that The Deplorable Patriot can keep delivering top-quality, independent journalism that's free to everyone. Every contribution, however big or small, helps secure our future. If you can, please consider a recurring monthly donation.
[wpedon id=441]
Hits: 158