When you deliberately target lunatics with depraved, psychotic propaganda that encourages them on to bask in their lunacy and regard themselves as some sort of righteous victim of imaginary oppression inflicted by normal people you better expect crap like this as a result:
A former high school student charged with opening fire alongside a transgender accomplice on "transphobic" classmates at a Colorado charter school has been convicted of all 46 counts, including murder.

20-year-old Devon Michael Erickson and accomplice Maya "Alec" McKinney shot one student dead and wounded eight others when the pair fired inside a darkened classroom at STEM School Highlands Ranch on May 7, 2019, while the unsuspecting classmates watched The Princess Bride.
Mr. Erickson was found guilty on 46 charges including first-degree murder and now faces life when he is sentenced in September. Miss McKinney, who testified against him, is eligible for parole in 20 years because she was a juvenile at the time.
And of course brain dead liberals naturally sided with the maniacs who were inspired by their ideology which helped to drive over the edge.
Leftists claimed that "oppressive society" and "a world designed to kill us" had driven McKinney to violence, alleging that [she] doesn't deserve to be punished for [her] crimes because it wasn't [her] fault that [she] committed the acts.
So I guess it's safe to say this is your fault if you're like me and refuse to pander to these people's mental conditions. That would make you a "transphobe" and no doubt it's the fault of the "transphobes" who oppressively insist on referring to women with feminine pronouns even if they are insane and proclaim themselves to be men.
While I believe these two deserve the death penalty, I'm perfectly fine with locking them up and throwing away the key.
More important than the fate of Devon Michael Erickson or Maya McKinney would be taking a moment to remember Kendrick Castillo, the 18 year old hero of the story who gave his life protecting the children by throwing himself in harms way.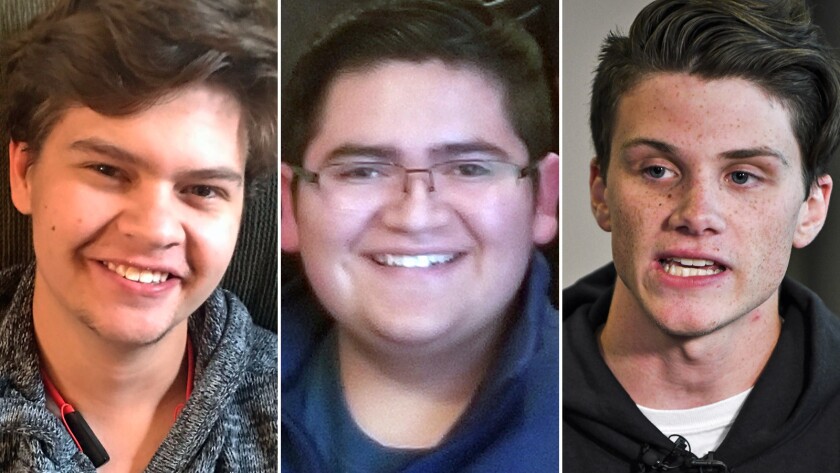 When the gunman burst into his high school classroom, Castillo immediately charged, pinning the attacker to the wall before he was fatally shot protecting fellow classmates. As he charged, so did two other students. Joshua Jones and Brendan Bialy who wrestled the gun from the shooter's hand and subdued him. Authorities said these acts of bravery helped minimize the bloodshed.
Young men like these are the ones we should celebrate. They refused to just sit there and become victims. They stood their ground and despite Kendrick Castillo losing his life, it was the right thing to do and should be an example to everyone.
---
Hits: 55