---
UPDATES:
Racism Was Not The Motive
But that won't stop the media and Democrat "race mongers" from saying it. – Jaz
(NYT) Robert Aaron Long, the suspect in the killing of eight people at three massage parlors in the Atlanta area, told investigators that he targeted the businesses because he blamed them "for providing an outlet for his addiction to sex," law-enforcement officials said.
Mr. Long, who is in custody, took responsibility for the shootings and said he acted alone, according to the Cherokee County Sheriff's Office.
"It's a temptation for him that he wanted to eliminate," Capt. Jay Baker said. "He said it was not racially motivated."
Six of the victims were women of Asian descent, officials said. At least four were of Korean descent, South Korea's foreign ministry said Wednesday.
Mr. Long, 21 years old, is charged with eight counts of murder and one count of aggravated assault, officials said. He is being held in Cherokee County without bond. He waived his right to an attorney, officials said.
---
WTF? Biden asks White House officials to conduct "listening sessions" in wake of massage parlor shooting
Are they talking about doing a focus group??????? -Jaz
(CNN) President Biden has asked domestic policy adviser Susan Rice and White House public engagement director and senior adviser Cedric Richmond to conduct "community listening sessions" in the wake of the Atlanta-area shooting that left eight people dead, including six Asian women.
White House press secretary Jen Psaki said the President made the request "so that we can hear from the community and determine how that should impact policies moving forward."
Psaki pointed to the memorandum Biden signed in January to combat racism against Asian Americans in the United States.
"He did sign an executive order, and actually there are ongoing processes, including from the Department of Justice, where they're doing listening sessions now, HHS will start those soon," Psaki said at a briefing Wednesday.
"There's also an ongoing review of domestic violent extremism that is wide-ranging, that is a 100 day review that will take a look at a range of issues and that will also be a longer-term, strategic, comprehensive look at how that impacts our society and this will certainly be a part of that," Psaki added.
---
RACE NOT A MOTIVE: Yet CNN Pretends It Is
(CNN) After eight people — six of whom were Asian women — were killed in shootings at Atlanta-area spas, Georgia State Rep. Sam Park said it serves as a reminder to "protect the most vulnerable among us."
"There's been a lot of concern with the Asian American community, particularly given the surge in violence and discrimination we've seen over this past year, a lot of it being driven by racist political rhetoric. … Regardless of the motivation, given the concerns the community already has, in light of all the attacks we have seen — particularly against Asian American women and the elderly — I think it's a reminder in which we need to do everything we possibly can to protect the most vulnerable among us," Park told CNN's Brianna Keilar.
Police have not yet offered a motive in the shootings saying it's too early in the investigation to determine if they were a hate crime.
Park recommended that people contact their local leaders if they feel unsafe or threatened.
"Make your voice heard. Reach out to your community members, reach out to elected officials, law enforcement. And raise those concerns so that we can do as much as we can to provide support," he said.
---
Shooting suspect legally purchased the gun this week, law enforcement sources say
(WSJ) Investigators believe the gunman accused of shooting and killing several people at three different spas in the Atlanta area Tuesday purchased the weapon he used in the attack this week, law enforcement sources tell CNN.
One of the sources said nothing in suspect Robert Aaron Long's background would have prevented the purchase.
Long is accused of shooting and killing several people at three different spas in the Atlanta area Tuesday, according to authorities.
During a Wednesday news conference, Sheriff Frank Reynolds, Cherokee County Sheriff's Office said Long "made indicators that he has some issues, potentially, sexual addiction, and may have frequented some of these places in the past."
Reynolds told reporters that the family of Long turned him in to authorities on Tuesday.
A law enforcement source said the suspect was recently kicked out of the house by his family due to his sexual addiction, which, the source said, included frequently spending hours on end watching pornography online.
According to an incident report from CCSO, a 911 caller said the suspect could possibly be his son and "does have a tracker on his phone." Another anonymous caller to 911 told dispatch the suspect was "kicked out of his parents' house last night," adding that he "was emotional," the incident report says.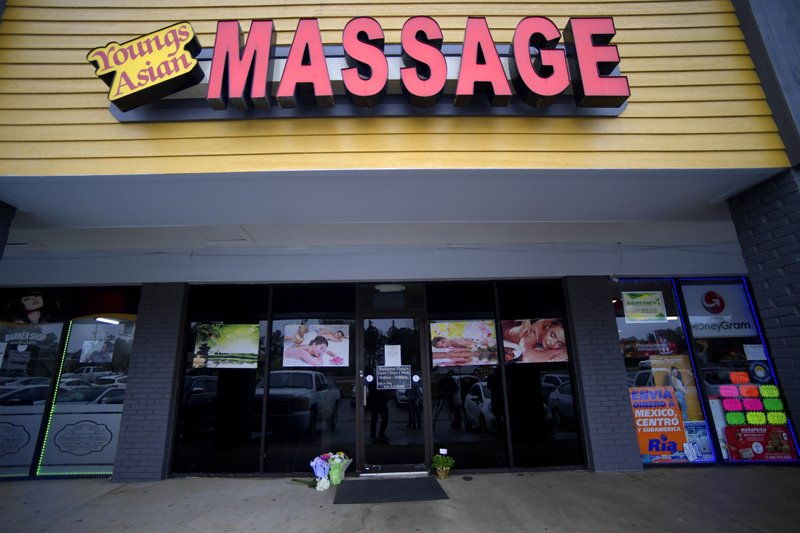 Long, 21, has been charged with, "four counts of Murder and one count of Aggravated Assault and has no bond," the CCSO said in a Wednesday statement. He is currently detained at the Cherokee County Adult Detention Center. He could face separate charges for the shootings he's suspected of committing in Atlanta, but authorities there have not charged him yet.
According to two law enforcement sources involved in the investigation, Long attempted to justify his actions when he told police he thought about killing himself, but decided instead to "help" others with sexual addictions by targeting spas.
One of the sources tells CNN, the suspect is on suicide watch and was wearing a vest intended to protect him from self-harm in the mug shot.
FBI agents from the bureau's Atlanta field office civil rights team continue to investigate whether race was a factor in the murders, one of the sources said.
Atlanta mayor says suspect in spa shootings should face "the stiffest most appropriate charges"
---
Atlanta Mayor Keisha Lance Bottoms told CNN's Wolf Blitzer on Wednesday the man suspected of killing eight people at three Atlanta-area spas should face "the stiffest most appropriate charges."
During the interview on the "Situation Room," Blitzer asked the mayor whether these killings should be prosecuted as hate crimes, noting Georgia's hate crime law does include victims targeted based on sex.
"I think whatever the stiffest most appropriate charges there are, this guy should face those charges," said Bottoms. "In Georgia, you can be charged with a hate crime. It covers a variety of areas and I personally think it would be appropriate, but I will defer to the prosecutors to make that determination."
So now am I to assume that "prostitute" is a protected class? – Jaz
Bottoms said the city is grateful to law enforcement that the suspected shooter, Robert Aaron Long, 21, of Woodstock, Georgia, was apprehended quickly and the violence was not carried out to other states. Although the suspect claims the shootings were not racially motivated, Bottoms said it's difficult to ignore that Asian community has been targeted.
"This is a man who murdered, eight people in cold blood, so it's very difficult to believe what he says," said Bottoms. "It's difficult to ignore the fact that many of the victims were Asian, all of the victims in Atlanta were Asian, in fact, and that he targeted these Asian massage parlors."
Bottoms said it is important that people stand in solidarity with the Asian American community at this time. "They are being targeted unfairly and in Atlanta, what we've seen the worst has happened," she said.
Massage Parlor Shooting Suspect Purchased Gun at Store in Holly Springs, Georgia
The suspect in the spa shootings where eight were killed in metro-Atlanta purchased his gun legally at a local gun store, Big Woods Goods in Holly Springs, Georgia, an attorney for the company confirmed to CNN.
In a brief statement, Matt Kilgo said the company is fully cooperating with law enforcement and there is no indication that there was anything improper with the transfer yesterday.
Robert Aaron Long, has been charged with four counts of murder and one count of aggravated assault in Cherokee County and four counts of murder in Fulton County.
---
8 Dead in Atlanta Massage Parlor Shootings
A man captured in South Georgia on Tuesday night is the suspect in three metro Atlanta massage parlor shootings that left eight people dead, authorities said.
Robert Aaron Long, 21, of Woodstock, was first identified as the suspect in the shooting at Young's Asian Massage Parlor in Cherokee County that left four people dead and one person injured, according to the Cherokee sheriff's office. He was captured Tuesday night in Crisp County, about 150 miles south of Atlanta.
He is now a suspect in two more shootings at similar businesses in northeast Atlanta that resulted in four more deaths, according to a sheriff's office spokesman.
"It does appear that it's the same suspect," Capt. Jay Baker of the Cherokee sheriff's office told The Atlanta Journal-Constitution. He confirmed that surveillance images indicate that Long is the suspect in all three shootings.
The deadly shooting on Ga. 92 near Acworth took place just before 5 p.m., according to the Cherokee sheriff's office. Five people were shot, with two declared dead at the scene and three taken to the hospital with injuries. Two of those injured later died at the hospital, according to the sheriff's office.
The victims were two Asian women, a white woman and a white man, Baker said. The fifth victim was a Hispanic man who was injured and taken to the hospital. Officials have not provided an update on his condition.
It appeared all five victims were shot inside the business, Baker said. Surveillance footage showed the suspect pulled up about 4:50 p.m., minutes before the shooting.
Around 5:45 p.m., four more people were killed in shootings at two separate massage parlors near one another on Piedmont Road, according to interim Atlanta police Chief Rodney Bryant.
Police first responded to Gold Spa, where they found three women dead from gunshot wounds inside the business, spokesman Sgt. John Chafee said. While investigating the scene, officers were called across the street to another shooting at Aromatherapy Spa, where they found another woman dead from a gunshot wound inside.
Atlanta police said that all four victims appeared to be Asian women. Officers were dispatched to check nearby similar businesses and patrols were increased in the area, Chafee said.
In Cherokee, Ga. 92 was temporarily shut down as officials investigated the shooting near the intersection with Bells Ferry Road. The shopping center was closed to the public as investigators searched for ballistics, fingerprints and other evidence. The busy highway was temporarily stopped in both directions as it filled with patrol cars, ambulances and a fire truck.
---
This is a breaking story and will be updated.
---
Support Free & Independent Journalism
Your support helps protect our independence so that The Deplorable Patriot can keep delivering top-quality, independent journalism that's free to everyone. Every contribution, however big or small, helps secure our future. If you can, please consider a recurring monthly donation.
[wpedon id=441]
Hits: 14