---
Mitt Romney Gets Booed At Utah GOP Summit…
---
Alaska Woman Says Feds Searched Her Home For Pelosi's Stolen Laptop…
Via Washington Times:
ANCHORAGE, Alaska — Federal agents served a search warrant at a boutique resort in Homer, Alaska, saying they were looking for a laptop stolen from House Speaker Nancy Pelosi's office during the Jan. 6 riot at the U.S. Capitol, one of the Homer Inn and Spa owners said.
Agents on Wednesday confiscated laptop computers and a cellphone, owner Marilyn Hueper said. A cellphone belonging to her husband, Paul Hueper, was also forensically audited by agents but not confiscated, she said.
Marilyn Hueper said agents also claimed there was photographic evidence that she was inside the Capitol during the riot; something she denies. No arrests were made Wednesday.
---
Liberal Fortress Of Oregon Hard Hit By COVID, A Virus They Literally Destroyed Their Economy Trying To Stop…
Via MSN:
The 55-year-old city finance director was meticulous about wearing a mask and washing her hands during the pandemic. She worked at home and stayed fit with daily walks and YouTube dance lessons with her husband.
But a week before her appointment for an April 22 shot, she felt exhausted and began aching all over. A test confirmed COVID-19. She gasped for breath during an ambulance ride to Samaritan Lebanon Community Hospital, a 25-bed medical center in a onetime logging and lumber mill town 80 miles south of Portland.
Sbragia became one of hundreds of patients hospitalized in a COVID-19 surge that has struck Oregon, alarming officials, who have slammed the state's opening measures into reverse. Doctors say that patients they're seeing are younger, sicker and often without underlying medical conditions, suggesting that potent variants could be partly to blame.
---
Democrats Suddenly Becoming Obsessed With Trains…
It's not 1860, trains have been obsolete as a means of transportation for a century now or so. It makes zero sense.
---
Ron DeSantis Announces Critical Race Theory Is Banned In Florida…
---
Biden Frantic After Thinking He Lost His Binkie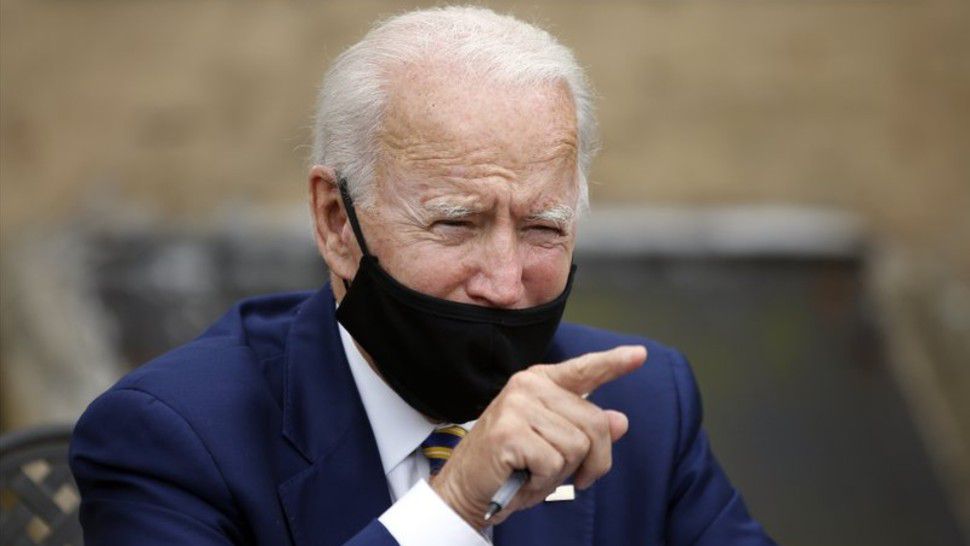 Via NY Post:
President Biden spent 30 seconds frantically looking for a mask he left in his pocket before his outdoor rally in Georgia this week — saying he'd be "in trouble" without it — despite being fully vaccinated.
Footage from Thursday's drive-in event in Duluth — which marked his 100th day in office — showed the commander-in-chief immediately hunting for his missing mask after arriving at his podium.
"I can't find my mask!" he could be heard saying, initially drowned out by the loud welcome music of Jackie Wilson's "(Your Love Keeps Lifting Me) Higher and Higher."
First lady Jill Biden joined him in his desperate search as he repeated his plea, taking the same folder to flick through and also bending down to look on the floor.
---
Texas Moves Closer To Constitutional Carry…
Via Fox News:
xIn Texas, where gun laws are among the loosest in the U.S., there is one line the state has long resisted crossing: making it legal to carry a handgun in public without a permit, background check or training.
Governors didn't champion it. Police persuaded Republican leaders to avoid it. And two years ago, when a frustrated gun rights activist showed up outside the home of the Texas House speaker, the resulting outcry quickly snuffed it out again.
But in a span of just weeks, Texas has suddenly pushed ever closer to becoming the largest state in the country with unregulated or "permitless" carry — a move that is alarming law enforcement and has some Republicans staring down a vote they'd rather avoid. It has also disheartened lawmakers from El Paso, which is still recovering from one of the worst mass shootings in the nation's history, when a gunman at Walmart killed 23 people in 2019.
---
After posting, then deleting, cynical messages, 'SNL' cast members given safe space if they don't want to appear with Elon Musk
What a bunch of candy-ass pusswads!
Via The Blaze
Some "Saturday Night Live" cast members and a writer don't appear to be welcoming Elon Musk, who is an upcoming host of the NBC sketch TV show. Two "SNL" cast members posted and then deleted seemingly standoffish messages toward the Tesla CEO on social media shortly after Musk was announced as the host for the May 8 episode.
Last month, it was announced that Musk would host "SNL."
"Weekend Update" host Michael Che did what comedians are supposed to do: make jokes. During an interview with former "SNL" star Jimmy Fallon, Che joked about Musk hosting, "I am excited to meet him, but I don't know if he knows, usually, we have this tradition at 'Saturday Night Live,' it's customary for the hosts to give like a couple million dollars to the cast members."
But not everyone was excited to see the billionaire on "Saturday Night Live."
The SpaceX founder tweeted, "Let's find out just how live Saturday Night Live really is," which received over 215,000 Likes on Twitter.
"SNL" cast member Bowen Yang took a screen capture of Musk's tweet and replied, "What the f*** does this even mean?"
---
Murders Are Now Happening In Broad Daylight In NYC…
Via NY Post:
Shocking new video shows the moment a gunman brazenly opens fire into an SUV on the Upper East Side — killing the 20-year-old driver.
In what was just one of the latest acts of city gun violence, the shooting unfolded just after 2:30 p.m. Monday on East 95th Street between Lexington and Park avenues, according to cops.
The 20-year-old victim, identified as Chris Delinois of Brooklyn, was fatally shot in the stomach while sitting behind the wheel of the parked Honda HRV, cops said.
The new video, released by cops Friday, shows the shooter seconds earlier holding a black handgun as he jumps out of the rear driver's side seat of a silver SUV parked alongside the Honda. The suspect then runs behind the Honda and fires at least one shot inside, according to the footage.
---
Democrats Claim 85% Of Americans Loved Bidens SOTU – Snopes Says That's Bulls**t…
---
After Months – CNN Finally Admits There Was No Bear Spray Used Against Capitol Police But Trump Supporters At Capitol…
Via Revolver:
The Brian Sicknick saga — why and how the fallen U.S. Capitol Police officer died in the aftermath of 1/6 — has gone through many twists and turns. It has been nothing short of a masterclass in how our Regime Media will tell lie after lie to launder fake narratives and avoid informing the public about basic, important truths.
The latest thread to unravel is the entire "bear spray" narrative. This past Tuesday, 27 days after Revolver News first identified using digital forensics that the New York Times had committed fraud about a "bear spray" attack, our Regime Media has finally admitted what our investigative team definitively proved from the start: no bear spray was actually deployed in the fake "bombshell" New York Times videos from March 24:
---
Support Free & Independent Journalism 
Your support helps protect our independence so that The Deplorable Patriot can keep delivering top-quality, independent journalism that's free to everyone. Every contribution, however big or small, helps secure our future. If you can, please consider a recurring monthly donation.
[wpedon id=441]
Hits: 16