---
Jim Jordan and Val Demings Get Into Screaming Match After He Floors Her With "Police Facts"
---
Fix the Family, Fix the Future!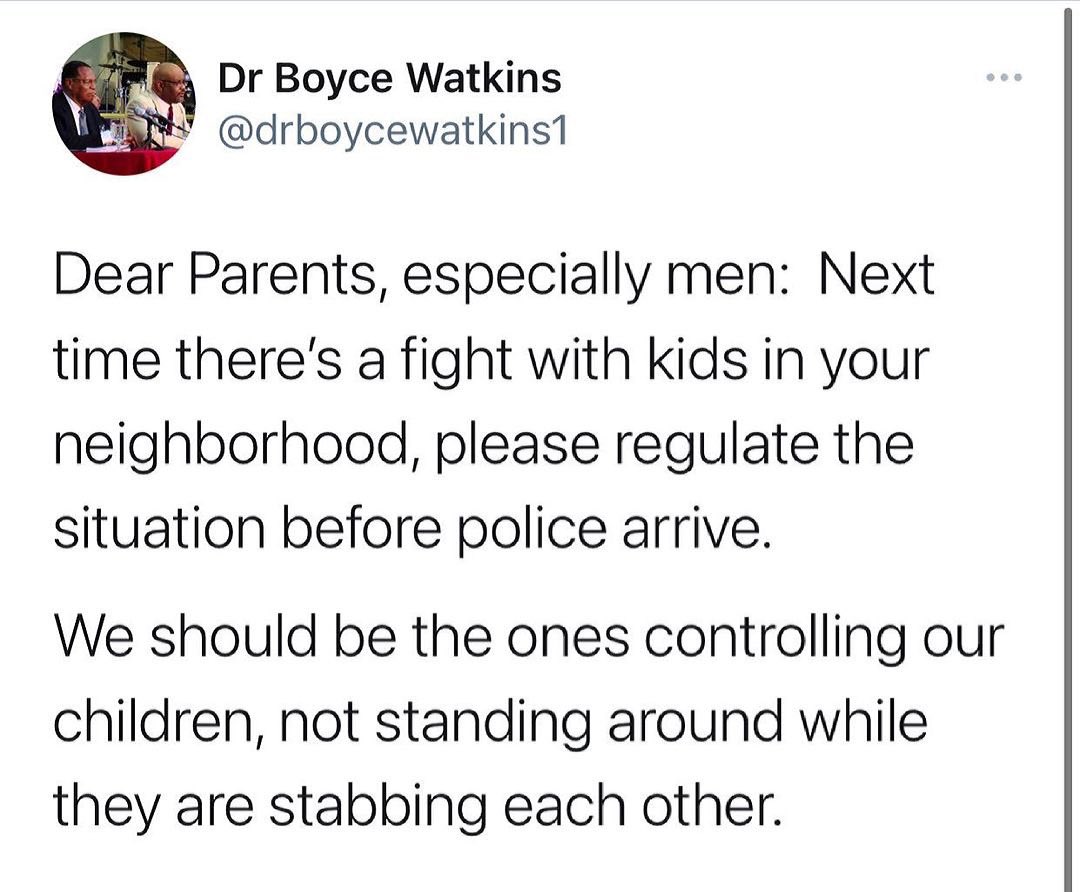 ---
Dershowitz: Chauvin Conviction 'Should Be Reversed On Appeal,' Maxine Waters Used KKK 'Playbook' To Intimidate Jury
---
BLM Complains Black Communities Being 'Terrorized At A Greater Rate' Under Biden Than Trump
Black Lives Matter has complained that black communities are under greater threat now that Joe Biden is President and that things have gotten worse since he took office.
The organization tweeted that those it represents are being "terrorized" more under Biden than when Donald Trump was president.
In a further statement posted to the BLM website, the group called police "violent upholders of white supremacy that have no regard for Black life".
The group called on Biden to "end the 1033 program altogether" with the "stroke of a pen."
While the Law Enforcement Support Office does transfer military surplus equipment to local law enforcement agencies, much of it is not weaponry, rather it consists of things such as "coffee makers, electrical wire and cargo containers," according to a Washington Post report from last year.
---
Loser Stacey Abrams Continues To Pretend The 2018 Georgia Governors Election Was Stolen From Her…
---
Joe Biden Is Officially The Worst President In American History…
This "child" was trying to slit the throat of another child and the cop capped her ass before she could do it. This administration is garbage and everyone who works for it is too.
---
LeBron James Threatens Cop Who Shot Mikaya Bryant To Save Another Girl From Her…
Shut up and play basketball moron.
---
Ellen DeGeneres Drove Her Wife To The Hospital While High And On Sleeping Pills…
Dangerous to drive on sleeping pills, let alone high. I don't care what she does to herself but she could have hurt innocent people.
Via page 6:
Reefer madness!
Ellen DeGeneres is catching heat online for admitting that she drove her wife, Portia de Rossi, to the hospital in March after drinking three "weed drinks" and taking over-the-counter sleep aids.
DeGeneres made the admission that what she did was "probably not safe" to Jimmy Kimmel Tuesday during a marijuana-themed episode of his show.
DeGeneres explained that she found de Rossi on the bathroom floor of their home, visibly in pain — but only after the daytime talk-show host had consumed three Cann drinks and the sleep aid melatonin. She then drove de Rossi to the hospital for an emergency appendectomy.
---
"Journalist" Thinks You Should Shoot People In The Leg When They Try To Stab Somebody in the Neck…
This idiot's seen to many movies. What a dumbass!
---
"She Came After Me With A Knife" – Victim In Ohio Tells How Cop Saved Her Life By Quick Thinking And Shooting…
---
YouTubers Waste Peoples Time And Money By Listing Dollhouse Made To Look Like Real Listing…
What a bunch of dicks.
Via NY Post:
It's AirbnBarbie.
UK YouTubers became the envy of internet trolls everywhere after successfully listing a dollhouse on Airbnb, while also racking up thousands of dollars in bookings in the process. A video of their impressive prank has garnered more than 350,000 views on YouTube.
London's Archie Manners and Josh Pieters, who are known for their online gags, reportedly masterminded the stunt to see just how carefully does "Airbnb check their listings," Pieters intoned in the clip.
The cheeky duo reportedly also wanted to trick the throngs of vacationers flocking to reserve lodging post-coronavirus lockdown.
"Archie and I thought we'd advertise one of the world's smallest properties on one of the world's biggest websites," Pieters mused.
In order to fool the housing rental giant, the punks reportedly meticulously photographed the interior of a palatial 1700s dollhouse created by famed doll-orama designer Emma Waddle. The miniature mansion was so detailed that it includes "readable books" and "real paintings," Pieters explains the video.
---
Police Officer Involved Shooting In North Carolina – Shot Man In Back??
Welp …here we go again.
Via B911:
Elizabeth City, NORTH CAROLINA – A man was fatally shot by deputies who were attempting to serve a search warrant Wednesday morning in Pasquotank County, North Carolina.
According to the Pasquotank County Sheriff's Office, the incident occurred around 8:30 a.m. in the 400 block of Perry Street.
Witnesses and family members on scene say 40-year-old Andrew Brown jumped into his car and drove away when deputies opened fire, fatally striking him.
An angry crowd gathered at the scene claiming police brutality, saying Brown was shot in the back.
---
Derek Chauvin Now On Suicide Watch…
Via DailyMail:
Derek Chauvin has been pictured in his first mugshot taken at the maximum security prison in Minnesota where he's on suicide watch after being found guilty on all three counts of murder and manslaughter in the death of George Floyd.
The Minnesota Department of Corrections released the new booking photo on Wednesday morning as Chauvin woke up from his first night at MCF-Oak Park Heights.
The 45-year-old dressed in an orange jumpsuit appeared tired and puffy-eyed with a frown and his hair in disarray.
It took the jury just over ten hours of deliberation to find Chauvin guilty of second-degree murder, third-degree murder and second-degree manslaughter on Tuesday based on a mountain of evidence and testimony presented over 15 days of trial in the Hennepin County court.
---
Manhattan DA Will No Longer Prosecute Prostitutes…
Via NY Post:
The Manhattan District Attorney will stop prosecuting prostitution and unlicensed massage cases — and is tossing thousands of warrants dating as far back as 1975.
DA Cyrus Vance Jr. appeared virtually Wednesday in Manhattan Criminal Court to ask Judge Charlotte Davidson to vacate 5,994 bench warrants and dismiss the underlying charges of prostitution, unlicensed massage and loitering for the purpose of prostitution.
The motion was granted and the cases dating back to 1975 were dropped.
For years, the Manhattan DA has offered people facing these charges services and programs.
---
Sheldon Whitehouse Speaks At Event Against Dark Money Groups, Funded By Dark Money Groups…
Via FreeBeacon:
Sen. Sheldon Whitehouse (D., R.I.) spoke Wednesday on the dangers of 'dark money' groups funding Congress, at an event funded by the Center For American Progress and the American Constitution Society—both of which have received funding from dark money organizations.
During his talk, titled, "The Supreme Corp: How Corporate and Right-Wing Interests Captured The U.S. Supreme Court," Whitehouse accused right-wing institutions of securing favorable court decisions by propping up potential appointees to District Courts and the Supreme Court with dark money.
"Big Republican donor interests are at work all around the court, and much of their work is hidden from the public. We must shed light here," he said. "The big influencers are hiding behind dark money channels and a lot of transparency is needed."
CAP recently published a review by Whitehouse outlining 73 Supreme Court decisions in which the Rhode Island senator makes the case that the court unfairly decided in favor of Republican interests.
---
Norfolk VA Fires Police Lieutenant Who Donated To Kyle Rittenhouse…
I donated to him too, but nobody can fire me!
Via Fox News:
A police officer in Virginia was fired after donating to a legal defense fund for Kenosha shooter Kyle Rittenhouse, officials said Tuesday.
Norfolk Police Lt. William Kelly anonymously gave $25 to a fundraiser for Rittenhouse in September, using his city email address, according to The Guardian.
The donation reportedly came with a comment that read: "God bless. Thank you for your courage. Keep your head up. You've done nothing wrong."
"Every rank and file police officer supports you," the message continued. "Don't be discouraged by actions of the political class of law enforcement leadership."
---
House Tables Resolution To Censure Maxine Waters For Being INSANE…
Via CBS:
Democrats narrowly defeated a resolution brought by House Minority Leader Kevin McCarthy Tuesday to censure Democratic Congresswoman Maxine Waters, after she encouraged protesters in Minnesota to "stay on the street" and "get more confrontational" if they don't see a guilty verdict returned in the Derek Chauvin trial regarding the death of George Floyd.
The House voted to table the resolution 216 to 210 along party lines. This was a victory for House Democratic leadership, since they could afford just two Democratic defections on the vote. There were zero defections on either side, with all Democrats present voting to table and all Republicans voting to move forward. Speaker Nancy Pelosi and Majority Leader Steny Hoyer were spotted by the doors of the chamber talking to members as they entered, indicating how important Democratic leadership considered the vote.
Following the vote, Waters said, "I love my colleagues and they love me. I don't want to do anything to hurt them or hurt their chances for reelection. I will make sure that they are comfortable with my kind of advocacy so that we can all be sure that we can do the right thing."
---
Garland Announces Police Probe Into Minneapolis Police Depts…
Via AP:
The Justice Department is opening a sweeping investigation into policing practices in Minneapolis after a former officer was convicted in the killing of George Floyd there, Attorney General Merrick Garland announced Wednesday.
The announcement comes a day after former officer Derek Chauvin was found guilty of murder and manslaughter in Floyd's death last May, setting off a wave of relief but also sadness across the country. The Black man's death prompted months of mass protests against policing in the U.S.
The Justice Department is already investigating whether Chauvin and the other officers involved in Floyd's death violated his civil rights.
"Yesterday's verdict in the state criminal trial does not address potentially systemic policing issues in Minneapolis," Garland said.
---
So I assume Lebron James is Good With the Outcome of This Story?
---
Support Free & Independent Journalism
Your support helps protect our independence so that The Deplorable Patriot can keep delivering top-quality, independent journalism that's free to everyone. Every contribution, however big or small, helps secure our future. If you can, please consider a recurring monthly donation.
[wpedon id=441]
Hits: 7