---
It's Deploralicious!
---
Impeachment Claim Goes up in Flames With Sicknick's Cause of Death
Via Red State
The falsehoods surrounding the cause of death of Capitol Police officer Brian Sicknick may finally have been put to rest today.
The medical examiner finally confirmed that Sicknick suffered two strokes and died from natural causes the day after the Capitol riot, not because of any injury.
But it's been a long journey since his death until this point, with a lot of false stories in between. His family begged that his death not be politicized but it has been politicized from the start, unfortunately.
I reported on Jan. 10 that there were questions regarding the initial account that Sicknick was hit with a fire extinguisher, causing his death. Indeed, as I wrote from the beginning, there was no evidence that he had ever been hit with a fire extinguisher, and there had been a report that he had an underlying medical condition; that he was fine until he collapsed hours later back at his office, after which he was taken to the hospital and died the next day.
Indeed, as I wrote on Feb. 5, his family told Pro Publica in a Jan. 8 report that the doctors had told them he'd had a stroke. But media was not reporting that information. The media completely ignored the Pro Publica report and what the family was saying. It took media until February to finally start admitting that the report about the fire extinguisher was untrue. As I also reported, CNN admitted on Feb. 2, that there was no blunt force trauma and the story about the fire extinguisher was false.
Why did it take so long to get to that basic truth?
Perhaps today's observation of the Washington Post's fact-checker best explains it. Here's what Glenn Kessler noted about the impeachment pretrial memorandum filed by the House Democrats on Feb. 2.
---
Florida Senate Passes 'Anti-Riot' Law. DeSantis Ready To Sign It.
Via Daily Wire
Florida's Senate has approved an "anti-riot" bill championed by Florida GOP Gov. Ron DeSantis and sent it to him to be signed into law. The Senate passed the bill 23-17 on Thursday in a vote largely along party lines; on March 26, the bill passed the House 76-39.
The bill permits citizens to sue a local government if that government does not stop a riot and "defines 'riot' as a violent public disturbance involving 3 or more people acting with common intent resulting in injury to others, damage to property, or the imminent danger of injury or damage," WFLA reports, adding that the bill "creates a new second-degree felony called an 'aggravated riot,' which occurs when the riot has more than 25 participants, causes great bodily harm or more than $5,000 in property damage, uses or threatens to use a deadly weapon, or blocks roadways by force or threat of force."
---
Maxine Waters is Pure Evil and Everyone Knows It
Via PJ Media
I don't know about you, but I'm certainly glad I don't live in a tolerant liberal city like Minneapolis or Portland right now. Being surrounded by all of that peaceful protesting might put me in a feel-good overload.
Meanwhile we're still supposed to believe that a drunk guy in a viking helmet almost overthrew the United States government in January 6th.
It's almost as if we can't trust the media.
It has not been my fortune throughout much of my adult life to live in places where my political interests were well represented in Washington, D.C. There were, of course, all of my years in Los Angeles. By the time I moved back to my beloved Arizona, my hometown Tucson had gone completely bat you-know-what lefty. My current representative is Raúl Grijalva, who is a member and former chairman of the Congressional Progressive Caucus. For much of my time in West Los Angeles my rep was the now-retired Henry Waxman. Prior to that, I lived in Maxine Waters's district for a few years.
Lucky, lucky me.
I lived in Waters's district from 1999 to 2003, so I have been aware of her awfulness for quite a while. I can assure you that she has always been pretty terrible. I was rather fond of emailing and calling her office to express my displeasure as a constituent back in the day, which was a frequent occurrence.
---
Canadian Government Doesn't Rule Out Invoking the Canada Emergencies Act
The Canadian prime minister is under fire for saying the United Kingdom was fighting a "very serious third wave" of the coronavirus, a statement not supported by any facts or data.
The worlds largest countries are trying to push the central banks within a brink of bankruptcies. They want to do this and they want to lock shit down to make people indentured to the government which is broke. They have no jobs and thus must keep the current crooked bastards in power to get their money. They up the tax rates on corporations to drive small businesses to bankruptcy and insolvency and boom nothing left but big government and big companies.
When Procurement Minister Anita Anand was asked by Global News journalist Mercedes Stephenson whether the government was considering the Emergencies Act, Anand said the liberal cabinet would reconvene during the weekend and early this week to "consider all options".
The Canada Emergencies Act is similar to the now-repealed War Measures Act which was only invoked three times in the country's history, in both world wars and in October 1970 during a wave of separatist terrorism.
The main difference is that in the Emergencies Act, enacted in 1988, the declaration of an emergency by the Cabinet must be reviewed by parliament, and any temporary laws made under the act are subject to the Charter of Rights and Freedoms.
The Emergencies Act would give the liberal government powers to issue executive orders and rapidly reallocate funds.
Rights guaranteed by the Canadian Charter of Rights and Freedoms have been disregarded throughout the pandemic.
---
Governor JB Pritzker is Activating the Illinois National Guard
Via WGN9:
CHICAGO — Governor JB Pritzker is activating the Illinois National Guard Tuesday at the request of the City of Chicago due to the upcoming Chauvin trial verdict.
The governor's office said 125 members of the Illinois National Guard will deploy to Chicago beginning on Tuesday to support the Chicago Police Department as needed.
"At the request of Mayor Lightfoot, I am activating members of the Illinois National Guard to support the city in keeping our communities safe," said Governor JB Pritzker. "It is critical that those who wish to peacefully protest against the systemic racism and injustice that holds back too many of our communities continue to be able to do so. Members of the Guard and the Illinois State Police will support the City of Chicago's efforts to protect the rights of peaceful protestors and keep our families safe."
---
FBI Announces It Has Appointed A "Chief Diversity Officer"…
You're going to have to get used to hearing the phrase "The shooter was known to the FBI…" in the news now.
---
Maxine Waters Might Have Bungled The Chauvin Trial…
You know she did this on purpose, knowing that a mistrial would launch a major wave of rioting…..
Via Mediaite:
After the prosecutors and defense attorneys presented their closing arguments in the Derek Chauvin trial, the defense moved for a mistrial because of media coverage of the case and comments by Rep. Maxine Waters (D-CA). Judge Peter Cahill acknowledged that Waters might have given the defense an argument to use for an appeal, and scolded her for making "disrespectful" and "abhorrent" comments on the case, but did not feel that the issue rose to the level that would require a mistrial.
Defense attorney Eric Nelson argued that the high level of media attention was "so profound" and "so pervasive" that it was impossible for the jury to not have been tainted by it. The jury who will decide if Chauvin is criminally responsible for the death of George Floyd was not sequestered during the trial itself, and will only be sequestered now during their deliberations.
---
Democrats Had A Man Lie In State At The Rotunda Under False Pretenses, What A Sick World We Live In…
This is just a small example of the level of scumbag the Democrat party is. They used this man, they exploited him and took advantage of his family all the while knowing the truth. These people are the lowest of the low. Honestly how can anyone vote for a demonrat?
Via Washington Post:
Capitol Police officer Brian D. Sicknick suffered two strokes and died of natural causes a day after he confronted rioters at the Jan. 6 insurrection, the District's chief medical examiner has ruled.
The ruling, released Monday, likely will make it difficult for prosecutors to pursue homicide charges in the officer's death. Two men are accused of assaulting Sicknick by spraying a powerful chemical irritant at him during the siege.
---
L.A. Set To Give Guaranteed Income To Poor…
Via MSN:
(Bloomberg) — Los Angeles Mayor Eric Garcetti is proposing a guaranteed income program for poor residents, making it the largest U.S. city to test such a policy.
Garcetti will ask the City Council on Tuesday to set aside $24 million in next year's budget to send $1,000 monthly payments to 2,000 low-income families in America's second-largest city, the mayor said in an interview. Funds from council districts and other sources could bring the total to $35 million.
---
Al Sharpton Takes Private Plane To Go Suck Up To George Floyd's Family…
Taking your formerly fat ass on a private jet to go exploit someone else's pain. This is PEAK Sharpton.
---
Shooter In Austin Was Black Former Sheriffs Deputy…
So here's one mass shooting we'll never hear about ever again….. after all he's black.
Via CNN:
Authorities say they arrested a former sheriff's office detective suspected of killing three people in a shooting in Austin, Texas.
Stephen Broderick, 41, was arrested just after 7 a.m. CT (8 a.m. ET), according to Manor, Texas, Police Chief Ryan Phipps.
"He was walking down the side of 12300 Old Kimbro Road, which is not far off from US 290. Two callers called in a suspicious person meeting the description of Mr. Broderick. Our officers went out there and conducted a high risk stop on him," Phipps told CNN.
"He complied fully with the officers and was taken into custody and they did locate a pistol on his waistband."
---
FLASHBACK: Maxinne Waters Promoted The Rodney King Riots Too…
---
WW2 Plane Crashes Off The Coast Of Florida…
---
White House Orders CBP, ICE To Stop Using Term "Illegal Alien"…
Via NY Post:
T​he Biden administration has ordered federal immigration enforcement agencies to nix the use of terms like "illegal alien" and "assimilation" when referring to illegal immigrants, in favor of more "inclusive language," according to a report on Monday. ​
The new directive was included in a memo sent to the heads of Immigration and Customs Enforcement and Customs and Border Protection as part of an effort by the Biden White House to build a more "humane" immigration system, the Washington Post reported, citing copies it obtained.​​
According to the document, "alien" will become "noncitizen or migrant," "illegal" will be called "undocumented," and "assimilation" will be refered to as "integration."​​
---
Marjorie Taylor Greene Introducing Resolution to Expel Rep. Maxine Waters from Congress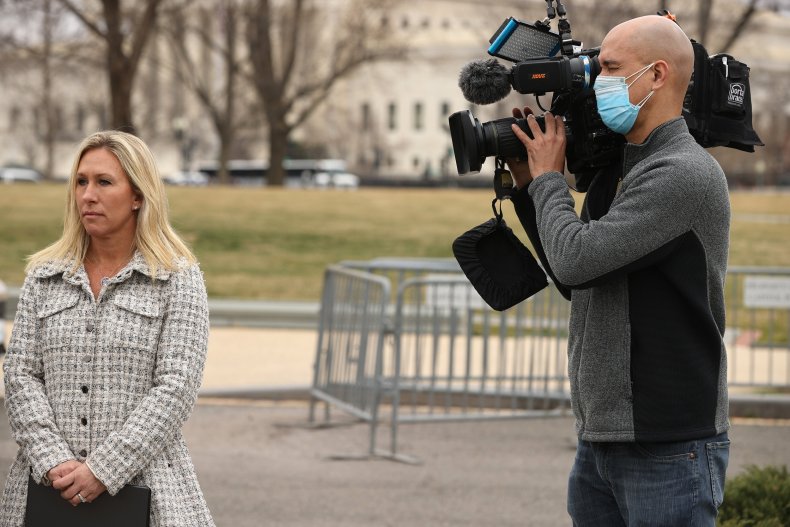 Vis Newsweek
Republican Georgia Rep. Marjorie Taylor Greene has announced that she will soon introduce a resolution to expel Democratic California Rep. Maxine Waters from Congress.
On Sunday afternoon, Greene tweeted, "Very soon I'll be introducing a resolution to expel @RepMaxineWaters from Congress for her continual incitement of violence on innocent American people."
"Rep Waters is a danger to our society," she added.
In a statement emailed to Newsweek, Greene's office said she announced plans to expel Waters "after the California Congresswoman invited Black Live [sic] Matter domestic terrorists to fire gun shots at National Guardsmen in Minnesota."
"As a sitting United States Congresswoman, Rep. Maxine Waters threatened a jury demanding a guilty verdict and threatened violence if Chauvin is found not guilty. This is also an abuse of power," Greene added.
Greene's remarks on Sunday came hours after Waters joined hundreds of Black Lives Matter protesters around the 11 p.m. curfew on Saturday night to demonstrate outside the police department in the city of Brooklyn Center, Minnesota.
The crowds were gathered for a seventh night of protests, after the police killing of Daunte Wright, to rally against police brutality and systemic racism. They repeatedly called for heavy charges against Kimberly Potter, the officer involved in the shooting.
Waters spoke to the crowd, telling them that she backed murder charges against Potter and advised the city against settling for manslaughter charges.
Nearby in Minneapolis, Derek Chauvin's murder trial has disrupted the city. Protesters across America have called for a guilty verdict to be passed onto the police officer accused of killing George Floyd.
Asked about the Chauvin trial by reporters, Waters said that she was "hopeful" the cop would be convicted.
Activists Target Chauvin Defense Witness With Animal Blood, Severed Pig's Head
Via Daily Wire
A former police officer and defense witness called during the trial of former Minneapolis Police Officer Derek Chauvin was reportedly targeted by activists over the weekend.
Barry Brodd's former home was smeared with animal blood and a severed pig's head was left at the front porch Saturday.
"Santa Rosa police said officers responded at 3:07 a.m. to a residence in a west Santa Rosa neighborhood that had just been vandalized," CBS SF BayArea reported Sunday. "The victim called police after they were awakened by a group of suspects — all dressed in black — who threw a pig's head on their front porch and splattered blood on the front of their house and then fled."
According to the CBS affiliate, investigators do not believe the attack was random but was connected to Brodd, who formerly lived in the home.
"Mr. Brodd has not lived at the residence for a number of years and is no longer a resident of California. Because Mr. Brodd no longer lives in the city of Santa Rosa, it appears the victim was falsely targeted," police said.
---
Support Free & Independent Journalism
Your support helps protect our independence so that The Deplorable Patriot can keep delivering top-quality, independent journalism that's free to everyone. Every contribution, however big or small, helps secure our future. If you can, please consider a recurring monthly donation.
[wpedon id=441]
Hits: 4