---
Are You an Informed Deplorable?
---
Some lawmakers back bill to prevent employers from making COVID-19 vaccine mandatory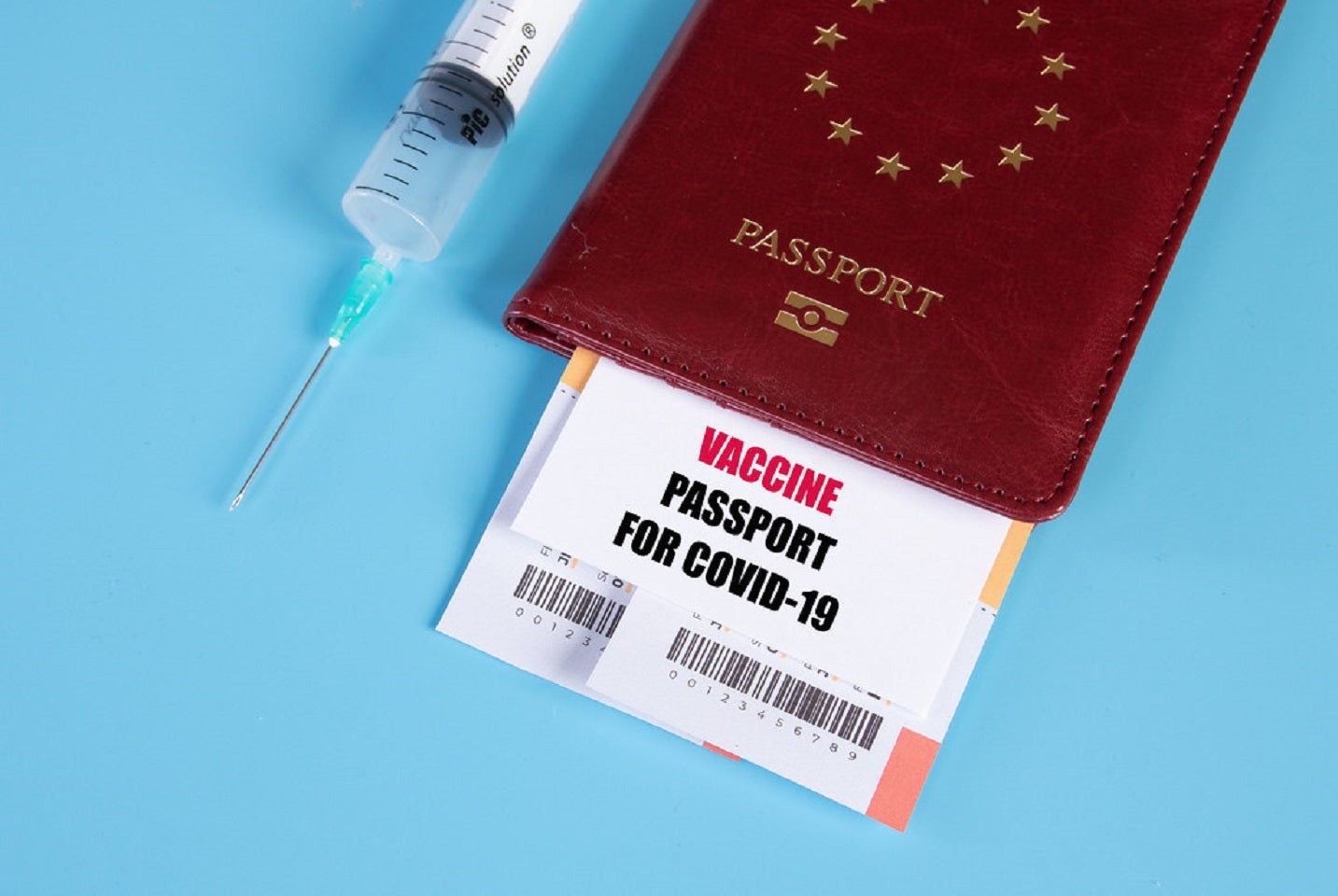 The government can't force you to put it in your body, but private companies can if they aren't stopped.
Via Wash Exam
Lawmakers in Springfield could soon consider a measure that would prevent employers from mandating COVID-19 vaccines as a condition of employment.
The bill, sponsored by state Rep. Joe Sosnowski, R-Rockford, would only apply to vaccines approved under the Food and Drug Administration's emergency-use authorization.
"While vaccinations are in an emergency review process, I don't think it's appropriate that any business, government, or other agency would require them," Sosnowski said. "Once they receive full FDA approval, that's a different story, as we see with requirements for flu vaccinations for medical personnel and at hospitals."
---
Cops Look For 'White Supremacist' Who Tried to Beat Asian Man to Death
Wait, that's a funny looking 'white supremacist' beating up that Asian man
---
Oregon man pulls gun on Antifa mob who trashed cars to stop 'Freedom Rally'
I do not blame him in the least, it;'s about time people push back on these mobs of terrorists.
Via NY Post
Dramatic video shows the moment a man pulls a gun on Antifa protesters as they clashed with demonstrators taking part in a "Freedom Rally" near the Oregon state Capitol on Sunday.
The older man — wearing an American flag sweatshirt — was filmed in Salem initially getting out of his pickup truck to survey the damage allegedly caused by the Antifa mob.
He initially appeared calm as the counter-protesters dressed all in black surrounded and mocked him, with some threateningly aiming canisters at him throughout the confrontation.
But the squabble took an ugly turn after he was either sprayed in the face or struck with an object — prompting him to flinch and draw his weapon on the crowd.
---
Virginia high school teacher seen in video berating student for not acknowledging race during lecture
Via Fox News
Video footage posted online shows a Virginia high school teacher appearing to berate a student for not acknowledging the race of two girls seen in a presentation slide.
The video, taken from a lecture at a Loudoun County Public School in Ashburn and posted on YouTube, shows a slide with two girls – one, a redheaded white girl, the other, a Black girl – standing back-to-back with the caption, "What is race?"
The teacher asks students what they see in the picture. An unidentified student says he sees "just two people chillin'."
---
Sharon Osbourne Given $10 Million In Exit From 'The Talk'
Via Daily Caller
Talk show host Sharon Osbourne reportedly received $10 million from CBS as she exited "The Talk" over allegations of being a racist.
"Sharon is walking away with a $5 to $10 million minimum payout and was able to spin that it was her decision [to leave the show]," a source told Page Six in a report published Monday.
---
Health-Care Workers Are Bragging on TikTok About Forging Vax Cards
Via Daily Beast
Before she wiped her page on Tuesday, TikTok user hann.brooke95 hadn't been shy about sharing even the most mundane details of her life with her 19,400 followers.
She posted TikToks of herself cooking while breastfeeding, the can of beans she was using for nachos, and even the painstaking process of transferring her license as a pharmacy tech from Florida to Illinois: from filling out the application, to affixing a return address label and stamp on the envelope, to dropping it in the mailbox in front of her house.
And the stream of everyday minutiae might have continued if she hadn't also used TikTok to brag about stealing COVID-19 vaccination cards from her job so she and her husband could pass themselves off as vaccinated.
---
Juan Williams calls the carjacking case of Uber Eats driver Muhammad Anwar a 'joy ride'?
He also had this to say about the girls who killed the man, "Their lives are ruined after this."
Via MEAWW
Juan Williams is being lambasted on Twitter for his controversial comments about the tragic murder of Uber Eats driver Mohammad Anwar by two teenage girls. Williams, who co-hosts the Fox News show 'The Five', said, "I don't think they intended to kill anybody. They were looking to have a joy ride. It just went way wrong, way out of control, and ended up in a gross tragedy." His usage of the term 'joy ride' led to a storm of controversy on social media as users slammed him for 'sticking up for those murderers'.
Co-host Jesse Watters interrupted Williams stating that the assailants brought a stun gun which is not usually brought for a 'joy ride'
---
President Trump Dishes On Fauci And Birx In New Statement…
Via Breaking 911:
Based on their interviews, I felt it was time to speak up about Dr. Fauci and Dr. Birx, two self-promoters trying to reinvent history to cover for their bad instincts and faulty recommendations, which I fortunately almost always overturned.
They had bad policy decisions that would have left our country open to China and others, closed to reopening our economy, and years away from an approved vaccine—putting millions of lives at risk.
We developed American vaccines by an American President in record time, nine months, which is saving the entire world. We bought billions of dollars of these vaccines on a calculated bet that they would work, perhaps the most important bet in the history of the world.
Dr. Fauci and Dr. Birx moved far too slowly, and if it were up to them we'd currently be locked in our basements as our country suffered through a financial depression. Families, and children in particular, would be suffering the mental strains of this disaster like never before.
---
Nike Sues Lil-Nas-X (Whoever That Is) For Creating Satanic Nike Shoes…
If this isn't just a Nike publicity stunt wouldn't this be a trademark violation? I mean, they have the swoosh on them.
Via TPM:
Today it's being reported that Nike has had enough of the outrage. They filed a lawsuit to halt the accompanying shoe line that was slated to roll out to consumers.
According to Rolling Stone, the Nike shoe company is suing MSCHF (who designed the Lil Nas X Satan shoes) on the basis that the rollout announcement made it appear as if Nike endorses Satanism. The fact that MSCHF did this allegedly without "approval or authorization" of Nike means the shoes are "likely to cause confusion and dilution and create an erroneous association between MSCHF's products and Nike."
---
Married Woman Says Cuomo Hit On Her In Front Of Her Son While Touring Flood Damage To Her Home…
Via The Guardian:
A married New York woman said Monday that Gov. Andrew Cuomo grabbed her by her face, gave her unwanted kisses and appeared to come on to her in front of her son while touring flood damage on her property in 2017.
Sherry Vill said she was introduced to Cuomo, in her Greece, New York, home where he leaned over and kissed her cheeks in a "highly sexual manner."
---
$1 Trillion In New Taxes Coming Soon…
Via San Diego Tribune:
WASHINGTON – When President Joe Biden's team began putting together his infrastructure and jobs package this February, the White House National Economic Council circulated an internal proposal calling for about $3 trillion in new spending and $1 trillion in new tax hikes, according to three people with knowledge of the matter.
---
Kamala Harris Is A Nutjob…
This woman is out of her mind.
---
Woman Accuses Cuomo Of Kissing Her Against Her Wishes In 2017…
Via Politico:
Another woman has accused New York Gov. Andrew Cuomo of "unwanted, unwelcome physical contact," the latest in a series of allegations of sexual harassment and misconduct levied against the governor.
The woman, Sherry Vill, said during a press conference on Monday afternoon that the governor "suddenly grabbed her face and kissed her" in 2017 outside of her home in the town of Greece, which borders Lake Ontario. Cuomo was visiting the area to survey flood damage in the wake of a storm.
---
Damn: NASA Says Earth Unlikely To Be Destroyed By Asteroid For AT LEAST 100 Years…
Sigh…and we deserve it too.
Via J Post:
Earth is safe from a potential calamity-causing asteroid for the next 100 years, NASA announced on Friday.
The announcement clears up fears that had lingered since 2004, when the asteroid 9942 Apophis was identified as one of the most hazardous potential asteroids that could strike the planet. However, this has now been ruled out thanks to a growing understanding of the asteroid and its orbit by astronomers, as well as new radar observations using precise orbit analysis.
---
SHOCK: WHO Absolves China Of Blame In Creation Of COVID-19…
Via CNN:
Covid-19 probably came to people through an animal, and likely started spreading no more than a month or two before it was noticed in December of 2019, a World Health Organization draft report finds.
The least likely source: a laboratory leak, the WHO's joint international team concluded.
WHO is scheduled to release the final report on its investigation into the origins of coronavirus on Tuesday, but a draft version of the report obtained by CNN shows there's still no smoking gun and no evidence suggesting the virus was spreading any earlier than the very end of 2019.
---
Fauci Takes Credit For Trump's Vaccine…
Via NY Post:
Dr. Anthony Fauci appeared to take credit for the development of the country's COVID-19 vaccines — without ever mentioning the role of the Trump administration's Operation Warp Speed campaign.
In a CNN special that aired Sunday, the director of the National Institute of Allergy and Infectious Diseases said the "best decision" he made was fast-tracking efforts to produce a vaccine.
"When I saw what happened in New York City, almost overrunning of our health care system, it was like, 'Oh my goodness,' " Fauci told CNN correspondent Dr. Sanjay Gupta on "COVID WAR: The Pandemic Doctors Speak Out."
---
President Trump: I Will Likely Visit Border Soon…
Americas Real President
Via NY Post:
Former President Trump sat down with Judge Jeanine Pirro for an exclusive interview that will air on Fox News' "Justice with Judge Jeanine" Saturday at 9 p.m.
"A lot of people want me to" visit the border, Trump told Pirro.
In the interview, Trump says that he will probably visit the southern border over the next few weeks.
Trump called Biden's undoing of the "Remain in Mexico" policy, or the Migrant Protection Protocol, a "very bad decision."
---
Biden Begs: Please Reinstate Orwellian Mask Mandates Governors …PLEASE
---
Windows Broke In A Riot? Call Not Antifa Window Repair…
Freakin' Awesome
---
BREAKING: One Of ICE's 10 Most Wanted People Arrested In Massachusetts…
Via Breaking 911:
BOSTON – U.S. Immigration and Customs Enforcement's (ICE) Enforcement and Removal Operations (ERO) Boston arrested one of ICE's Top 10 Most Wanted in the United States, a previously removed immigration fugitive citizen of Haiti who had been convicted on multiple counts of narcotics possession and trafficking. The fugitive was charged with illegal reentry in federal court in Boston, it was announced by ERO Boston Field Office Director Todd M. Lyons and Acting United States Attorney for the Massachusetts Nathaniel R. Mendell on March 24.
Friendly Grandoit, 42, was arrested on March 19, 2021, and charged with one count of illegal re-entry into the United States after deportation. Grandoit was detained following an initial appearance before U.S. District Court Magistrate Judge Marianne B. Bowler.
---
Gov Ron DeSantis Hits Back Against "Vaccine Passports"…
---
Support Free & Independent Journalism 
Your support helps protect our independence so that The Deplorable Patriot can keep delivering top-quality, independent journalism that's free to everyone. Every contribution, however big or small, helps secure our future. If you can, please consider a recurring monthly donation.
[wpedon id=441]
Hits: 10