---
Deplorable And Proud Of It!
---
The Boulder Jihad and Jihad Denial
Via Front Page
As we witness U.S. authorities and the establishment media trying to de-Islamize the Jihad in Boulder and to obscure the fact that the Jihadist perpetrator, Ahmad Al Issa, is a Muslim migrant ISIS sympathizer, a vital question confronts us: why does the Left consistently engage in Jihad Denial? Why is it so invested in denying the Islamic roots of Islamic Jihad?
This is, without doubt, one of the most pertinent questions of our time, especially now with the Boulder Jihad — and its tragic victims — hovering right before our very eyes. Frontpage Mag editors have therefore deemed it vital to run, below, an excerpt from Jamie Glazov's book, Jihadist Psychopath: How He is Charming, Seducing, and Devouring Us. The excerpt, which is part of the introduction to the book, details the Left's standard practice of trying to hide and camouflage the true sources of Islamic terror. This documentation equips us with the understanding of why Jihadists like Ahmad Al Issa are able to sow the destruction that they do today — and so easily. It also sets the foundation for our insight into why exactly the Left practices Jihad Denial — and what all the specious ingredients of that denial entail. These facts will all be unveiled in several published chapters of Jihadist Psychopath in our forthcoming issues of Frontpage Mag.
---
Massive Fire Engulfs Nursing Home In New York, Building Collapses
How convenient………
Via Daily Wire
A massive fire engulfed a nursing home facility in New York during the early morning hours on Tuesday, and video posted online showed that the building had at least partially collapsed.
"One firefighter is missing and residents are unaccounted for in a fire at a residential senior center in New York City's northern suburbs," CNN reported. "It wasn't immediately clear how many residents couldn't be located amid the blaze in Spring Valley, Trooper Steven Nevel of New York State Police's Troop F said around 4 a.m. ET."
New York's nursing homes suffered greatly during the coronavirus pandemic and are at the center of a controversy involving Democrat New York Gov. Andrew Cuomo, who has been accused of hiding the true number of deaths that happened inside the nursing homes.
Federal law enforcement officials are now reportedly investigating Cuomo and his aides over whether they provided false data to the U.S. Department of Justice about the resident deaths.
"Agents from the Federal Bureau of Investigation have contacted lawyers for Mr. Cuomo's aides, interviewed senior officials from the state Health Department and subpoenaed Mr. Cuomo's office for documents related to the disclosure of data last year," The New York Times reported. "The interviews have included questions about information New York State submitted last year to the Justice Department, which had asked the state for data on Covid-19 cases and deaths in nursing homes, according to the people. False statements in such a submission could constitute a crime."
Keep reading…
---
Boulder Shooter is ISIS Sympathizer, Leftists Hardest Hit
Another opportunity to shore up their sagging "white terror threat" narrative is lost.
Via Front Page
A man murdered ten people in a Boulder, Colorado supermarket Monday. No details were immediately released about the shooter, but Leftist "journalists," working from a photo of the shooter, seized upon the shooting to shore up their sagging narrative of "white supremacist terrorism." There was just one problem: the massacre was actually, after a four-year hiatus, a new incidence of Islamic jihad on American soil.
Even after the shooter's name was revealed as Ahmad Al Issa (which is how he himself wrote it on his Facebook and Twitter accounts), establishment media reports continued to give his name as "Alissa," which of course is a common first name for women in the U.S., and thus gives the impression that he is an American non-Muslim. Were "journalists" trying to obscure the fact that he is a Muslim migrant ISIS sympathizer? Of course they were.
---
Democrats are using the Boulder shooting to push a gun control proposal that already failed
Keep going back to that well and eventually they figure they'll find water.
Via Wash Exam
The details of the tragic Sunday shooting in Boulder, Colorado, that left 10 people dead are still being discovered. But we do know that the gunman, who opened fire in a grocery store, reportedly used a semi-automatic AR-15 rifle and that Democrats are immediately using the tragedy to renew their push for gun control.
Senate Majority Leader Chuck Schumer promised that the "Senate is going to debate and address the epidemic of gun violence in this country."
---
New Democrat bill would ban Americans from holding security clearance if they attended MAGA events
---
Tammy Duckworth Says She'll Only Vote For A Biden Nominee If They're A Minority…
Via DailyWire:
Democrat Senator Tammy Duckworth (IL) was slammed on Tuesday for remarks about President Joe Biden's nominees that were widely panned as racist and bigoted.
"I am a no vote on the floor, on all non diversity nominees," Duckworth said. "You know, I will vote for racial minorities and I will vote for LGBTQ. But anybody else I'm not voting for."
---
A Muslim Terrorist From the Capital of ISIS Shot Up a Supermarket. Biden Blames Guns
Biden ended Trump's Muslim ban claiming it "undermined our national security."
Via Front Page
Two years ago, Ahmad Al-Issa shared a post titled, "Why refugees and immigrants are good for America." On Monday, the Syrian Muslim immigrant shot up a supermarket killing ten Americans.
Biden declared that he was "still waiting for more information regarding the shooter, his motive, the weapons he used. The guns, the magazines, the weapons, the modifications that have apparently taken place to those weapons that are involved here."
Why do the modifications to the Syrian immigrant's weapons matter more than his motive?
Obama joined in, demanding that it is, "long past time for those with the power to fight this epidemic of gun violence to do so."
Guns don't kill people. Muslim terrorists do.
---
Google Searches For "Hope" & "Prayer" Surge While "Party" Slumps…
Via Irish News:
Terms such as "hope", "hug" and "prayer" reached a record high on Google search in 2020, offering a snapshot of the national mood a year on from the UK's first lockdown.
Searches for "panic attack", "hypochondriasis" and "how to help" also saw a new high, according to Google Trends data, while interest in "party", "travel visa" and "festival" dipped to a record low as a result of lockdown restrictions.
A surge in people looking up "puppy", "barbecue", "books" and "hot tub" gives a sense of the types of things users sought out to cope during the pandemic.
---
Texas Announces Huge Change To Vaccine Availability Statewide…
Via KXAN:
AUSTIN (KXAN) — Starting on Monday, every single adult in Texas will be able to get the COVID-19 vaccine, and seniors 80 and older will be able to get it with or without an appointment. The state also plans to launch a brand new vaccine registration website next week.
---
U.S. Sanctions China…
Via CNN:
The US announced sanctions Monday against two Chinese officials for "serious human rights abuses" against Uyghur Muslims, a step coordinated with allies including the European Union, Canada and the United Kingdom, which imposed sanctions on the same individuals and others, the Treasury Department said.
The announcement was part of a broader show of unity by the US and its international allies, all voicing condemnation for Beijing's repression of Uyghur Muslims and other ethnic minorities in Xinjiang province.
---
Kamala Harris' Niece Like Most, Jumped To Conclusions And Assumed The Shooter Was White…
Via NY Post:
Vice President Kamala Harris' niece is under fire for presuming the gunman in Monday's Colorado mass shooting was white — because he was taken into custody alive.
"The Atlanta shooting was not even a week ago," Meena Harris wrote in a since-deleted tweet, Fox News reported Tuesday.
"VIolent white men are the greatest terrorist threat to our country," she wrote.
---
The FBI Failed To Stop Yet ANOTHER Terror Attack On U.S. Soil…
At what point do we just disband the FBI?
Via DailyMail:
Ahmad Alissa, the 21-year-old gunman responsible for a mass shooting at a Colorado grocery store on Monday, was known to the FBI and had ranted online about 'racist islamophobes' hacking his phone.
Alissa asked if he could speak with his mother after surrendering to police on Monday, having stripped off and laid down his down his Ruger AR-556 rifle, handgun and tactical vest in the supermarket's aisles.
A high school wrestler who has been described by his family as 'mentally ill', was born in Syria and moved to the US when he was three.
---
Biden Will Cancel $1 Billion Student Loans…
Via CNN:
The Biden administration has reversed a controversial Trump-era policy that will lead to the cancellation of roughly $1 billion in student debt for borrowers who were defrauded by their colleges.
The change will deliver full loan forgiveness to 73,000 people who were deemed eligible for the relief under former Education Secretary Betsy Devos but received only partial loan forgiveness after she changed the cancellation calculation.
"Borrowers deserve a simplified and fair path to relief when they have been harmed by their institution's misconduct," Secretary of Education Miguel Cardona, who was confirmed by the Senate earlier this month, said when he announced the change last week.
---
Evanston Illinois Is First City In America To Pay Out Reparations To Blacks…
Via NBC:
EVANSTON, Ill. — Evanston, Illinois, on Monday became the first U.S. city to make reparations available to its Black residents for past discrimination and the lingering effects of slavery.
The Chicago suburb's City Council voted 8-1 to distribute $400,000 to eligible black households. Each qualifying household would receive $25,000 for home repairs or down payments on property.
The program is being funded through donations and revenue from a 3% tax on the sale of recreational marijuana. The city has pledged to distribute $10 million over 10 years.
---
North Korea Fires Short Range Missiles In Test To President Grandpa…
Via Washington Post:
North Korea fired off multiple short range missiles last weekend after denouncing Washington for going forward with joint military exercises with South Korea, according to people familiar with the situation.
The missile tests, which have not previously been reported, represent North Korean leader Kim Jong Un's first direct challenge to President Biden, whose aides have not yet outlined their approach to the regime's nuclear threat amid an ongoing review of U.S.-North Korea policy.
---
2 Black Men Drugged, Raped And Killed White Woman In Miami
Normally I wouldn't mention the race of either parties in a headline, however since EVERYTHING is supposed to be about race these days I decided to accommodate.
Via Breaking 911:
MIAMI – Two men from North Carolina who were vacationing in South Beach for spring break have been charged with drugging and raping a woman who was later found dead in a hotel.
Evoire Collier, 21, and Dorian Taylor, 24, are being held on multiple charges, including burglary with battery, sexual battery, petty theft and fraudulent use of a credit card.
The victim is 24-year-old Christine Englehardt who was visiting alone from Pennsylvania.
---
BREAKING: British Antifa Group Seizes Abandoned Police Station, Fortifies It, Mayor Sends Them Letter Asking Them To Leave…
---
Hillary Clinton: USA Should Distribute Vaccine Among Poorer Countries For Free…
Gee, I wonder why an elite globalist would want to distribute an experimental vaccine to overpopulated 3rd world countries…? Population control? What a surprise.
---
San Diego Convention Center To House Illegal Aliens…
Via NY Post:
The San Diego Convention Center, known for hosting events like Comic Con, will be turned into a migrant minor shelter at the request of the Biden administration, the city announced.
The announcement came Monday in a joint statement from San Diego Mayor Todd Gloria and San Diego County Board of Supervisors Chairman Nathan Fletcher, who said that Health and Human Services Secretary Xavier Becerra "requested our help to house some of the unaccompanied minors at the border."
---
Here Comes Bunny Foo – Foo Hoppin' Through The Forest…
---
Obama Blames ISIS Inspired Attack On "Disaffection, Racism & Misogyny"
What a douche-bag
---
UPDATE: Colorado Shooter Planned To Target Trump Supporters – Spent Months Complaining Online About Trump…Immigrated From Syria?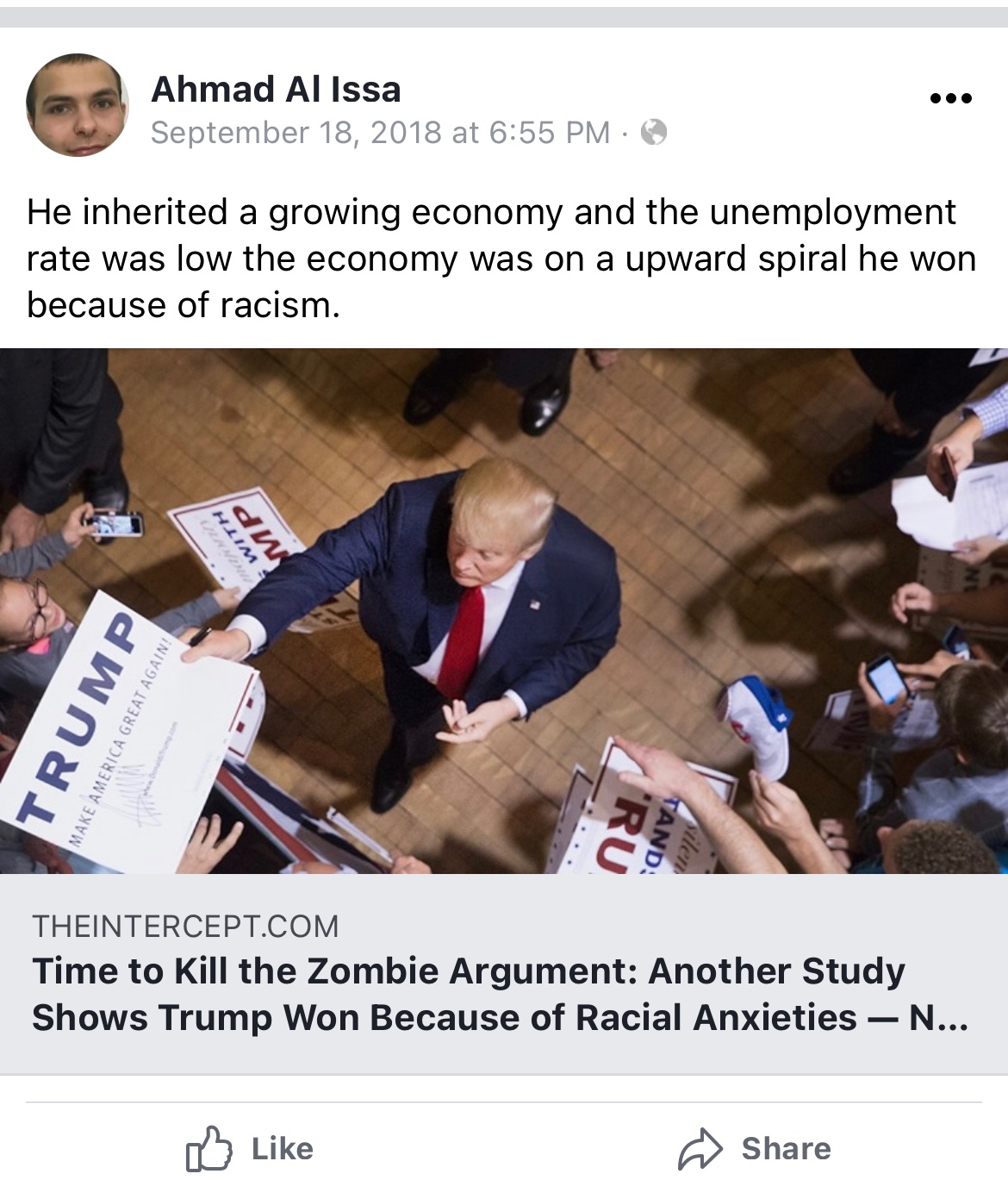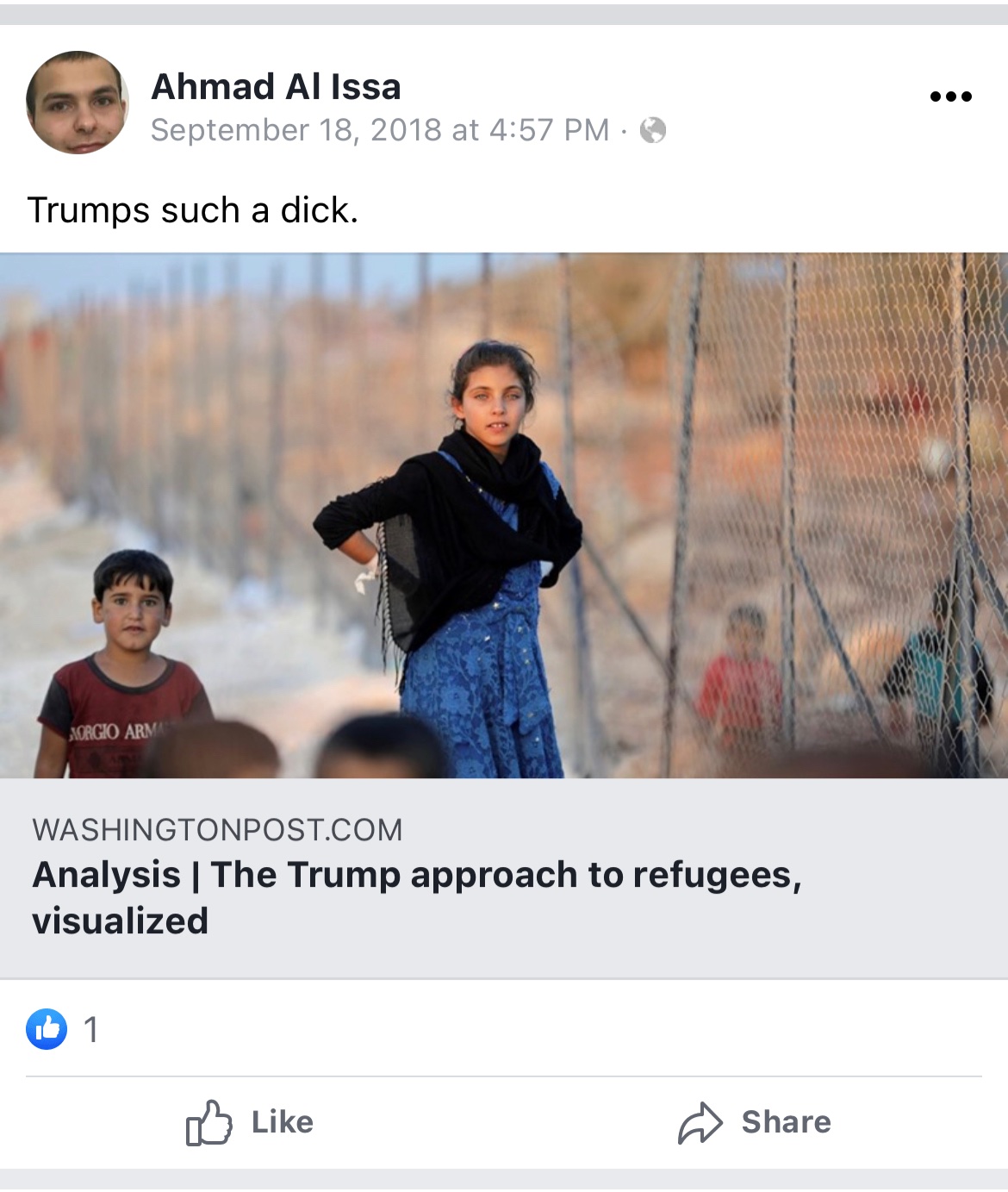 Via DailyMail:
The gunman responsible for a mass shooting at a Colorado grocery store on Monday has been identified as 21-year-old Ahmad Alissa.
Alissa, who has lived most of his life in the US, is now in custody and has been charged with 10 counts of murder.
At 2.40pm, he opened fire on King Soopers grocery store in Boulder, killing ten people. He was taken into at 3.28pm and was transported to the hospital to be treated for a leg wound.
Alissa is now in a stable condition and has been charged but his motive remains unknown.
In Facebook posts over the last 18 months, he complained about not having a girlfriend and ranted about President Trump.
---
Colorado Shooter Identified As Ahmad Al-Issa, Had ISIS Ties…
---
Cuomo Tells His Last Remaining Fan 'I'm Not Going Anywhere'
---
Ohio Man Lived Under A Teenage Girls Bed For 3 Weeks…
Via NY Post:
A 20-year-old Ohio man allegedly raped a teenager and took nude photographs of her – while he reportedly lived under her bed for three weeks.
Jaret Wright, 20, who met the girl on Instagram, was charged with three counts of rape and one count of producing child pornography, according to the Akron Beacon Journal.
The girl — who is between 13 and 18 years old – knew the suspect was living under her bed in the Cincinnati home but her mother was unaware.
The gobsmacked mom discovered Wright under her daughter's bed after three weeks, according to the Hamilton County Prosecutor's Office.
---
Support Free & Independent Journalism 
Your support helps protect our independence so that The Deplorable Patriot can keep delivering top-quality, independent journalism that's free to everyone. Every contribution, however big or small, helps secure our future. If you can, please consider a recurring monthly donation.
[wpedon id=441]
Hits: 4