---
Bigger, Better, More Deplorable
---
Dan Bongino to fill Limbaugh's radio slot
Dan Bongino is NOT taking over Rush Limbaugh's show. Dan Bongino works for a company called Westwood One, they will broadcast his show on many stations around the country at the same time as Rush's show. Rush Limbaugh is distributed by a different company called Premiere Radio Networks. For the time being the Rush Limbaugh show will continue. Suggesting Bongino is taking over the Rush Limbaugh show is like saying WalMart has taken over Target if Target closed a store and WalMart moved into the building.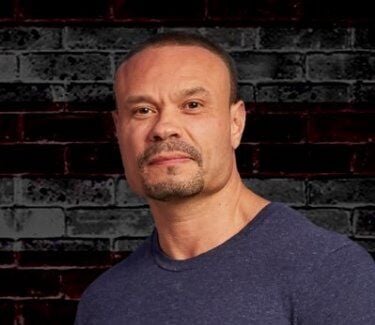 Via The Hill
Conservative commentator Dan Bongino is taking over the late Rush Limbaugh's radio slot, Cumulus Media's Westwood One announced on Wednesday. 
"The Dan Bongino Show" will air on the radio Monday through Friday from 12 p.m. to 3 p.m. starting May 24, the press release states. 
"Dan is passionate and relatable, with a natural ability to connect with his audience," said Suzanne Grimes, president of Westwood One and executive vice president of corporate marketing for Cumulus Media. "Dan has been on a meteoric rise since his podcast launched in 2019, and we look forward to watching his star continue to soar."
"The Dan Bongino Show will tackle the hot political issues, debunking both liberal and Republican establishment rhetoric," according to the press release.
---
BLM leader in Atlanta indicted for spending donations on a house, guns and prostitutes…
Keep on making those donations people.
The Daily Wire is reporting that a Toledo man who is a self-proclaimed leader of the Black Lives Matter movement in greater Atlanta stands accused of defrauding donors out of hundreds of thousands of dollars in donations, while using a "substantial portion" of those funds for personal expenses,.
That allegedly included buying a house and paying a prostitute.
---
Trump returning to social media with 'his own platform'
Via FNC
Former President Donald Trump will be back on social media in the near future with his own service, according to one of his senior advisers.
Trump was banned from Twitter following the Jan. 6 Capitol riots. He had been a prolific poster on that platform before and during his presidency.
"I do think that we're going to see President Trump returning to social media in probably about two or three months here, with his own platform," Trump senior adviser Jason Miller told Fox News' "#MediaBuzz" on Sunday. "And this is something that I think will be the hottest ticket in social media, it's going to completely redefine the game, and everybody is going to be waiting and watching to see what exactly President Trump does."
Miller said he was unable to provide much more in terms of details at this point, but he did reveal that Trump has been having "high-powered meetings" at Mar-a-Lago with various teams regarding the venture, and that "numerous companies" have approached Trump.
---
Biteme's CDC Director: "Now Is Not The Time To Travel…"
Unless of course if you're an illegal alien traveling into the U.S. and you're infected with Covid.
Via CNBC
The Centers for Disease Control and Prevention again advised against travel on Monday, while Miami Beach business owners fretted about spring break chaos.
Miami Beach officials declared a state of emergency and ordered a rare curfew over the weekend, an effort to avoid spreading Covid-19 and stop large crowds and unruly behavior in the popular tourist destination.
---
These Are The Conditions Joe Biden Is Leaving Illegal Alien Children In…
We've got the pictures…..
---
ICE Pays $86 Million To House Illegal Aliens In Hotels Across Texas/Arizona…
Meanwhile, taxpayers in Texas who still can't return to their homes because of storm damage have to pay for their OWN hotels.
Via NY Post:
US Immigration and Customs Enforcement has inked an $89.6 million contract with a Texas nonprofit to shelter Central American migrants in hotel rooms while the feds process a massive backlog of new arrivals at the border, according to the agency and reports.
The eight-figure deal was announced Saturday, as migrants continued to arrive at the border at a rate not seen in 20 years, including unaccompanied children crammed into jail-like detention centers to await transfer to federal shelters across the country.
---
12 Year-Old Boy Waiting In Line At McDonald's Stabbed In The Jugular…
That guy sure looks like a Trump supporter to me. (eye roll)
Via CNN:
A 12-year-old was waiting in line with his family at a Pittsburgh McDonald's when a man stabbed the boy in the neck with a box cutter, police told CNN affiliate KDKA.
Police arrested Charles Edward Turner, 51, in the 2 p.m. Saturday incident, police say. He faces multiple charges, including criminal attempt homicide and four counts of aggravated assault, records show. He is being held at Allegheny County Jail.
---
Video Shows Illegal Aliens Drowning In Rio Grade River…
Via NY Post:
A tragic video appears to show young migrants drowning in the Rio Grande, a deadly turn in the escalating border crisis.
The footage, captured by fisherman Jesus Vargas, shows three people in the water near the border town of Laredo, Texas, with only their heads bobbing above the surface.
"You don't have life jackets, nothing? They're drowning, these guys!" Vargas is heard shouting at US Border Patrol agents standing on the shoreline nearby.
"That girl didn't come out no more!" Vargas yells of one apparent victim.
He used his fishing reel to save one boy, about 13 years old, but he claims a woman and two teenage boys drowned.
---
DHS Sec On Biden Admin Refusing To Recognize Border Crisis: 'Language That Is Not Applicable'…
Wait … WTF?
---
Dem Rep. Sheila Jackson Lee Claims Border Crisis Is A 'Distraction' Created By GOP…
I see where the secret Republican plot called "Operation, Let Them Speak" is working just fine.
---
Former Warp Speed Chief Adviser: '90% Of What's Happening Now Is The Plan We Had' Under Trump…
Remember this when Biteme runs his mouth in the future.
---
Far Left Anarchists In Bristol England Try To Blow Up A Police Station…
---
CNN's Ana Navarro Describes Throngs Of Black Spring Breakers As "Plague Of Morons"
Well, that's racist…..
---
Gretchen Whitmer May Soon Face Scrutiny Over Her Handling Of Nursing Homes…
Well, better late than never I guess.
Via Fox News:
The state of Michigan is facing a lawsuit whose plaintiffs are seeking information on Gov. Gretchen Whitmer's coronavirus-related executive order regarding the state's nursing home residents.
Whitmer could soon find herself under scrutiny similar to that faced by a fellow Democrat, New York Gov. Andrew Cuomo, the Michigan men taking the legal action against Whitmer say.
Plaintiffs Steve Delie and Charlie LeDuff outlined the purpose of their lawsuit in an article published Friday by USA Today. Delie is an official with the think tank Mackinac Center for Public Policy, while LeDuff is a Pulitzer Prize-winning journalist.
---
Teen Vogue Staffer Who Supported Removing Her Editor Once Used N-Word On Twitter…
The hilarious thing is, she tried to get a black woman cancelled for anti-Asian racism then it turns out she's a white girl using the N-word on Twitter.
---
Inside Biden's Failure To Lead On The Border…
Via Washington Post:
The next day, Biden was similarly pointed, saying his administration — while eager to roll back Donald Trump's immigration policies — first needed to implement "guardrails" to avoid winding up with "2 million people on our border."
Less than a month later, the new president began tearing down some of the guardrails himself. He issued five immigration executive orders on Inauguration Day alone and promised an immigration policy far more humane and welcoming than that of his predecessor. His administration also began allowing unaccompanied minors into the country, a marked departure from the Trump administration's approach.
---
Thousands Across Europe Demonstrate Against Third Wave Lockdown…
From Switzerland:
Nearly 8,000 took part in the silent protest, according to journalists' estimates. They had received police permission to gather, but many did not wear masks, flouting government rules. Many wore white suits.
Police did not intervene against those not wearing masks. A police spokesman said they preferred that the demonstration remain peaceful.
From London:
Protesters began their march in Hyde Park, continuing towards Oxford Street and blocking off Park Lane – despite demonstrations being banned under lockdown restrictions.
Cops were forced to run back to their vans, as protesters threw bottles and cans at them in Hyde Park.
Around a hundred police officers wearing riot helmets and carrying shields arrived at Hyde Park and urged people to go home.
A group of around one hundred chased police vehicles, punching and kicking them, as they left the area following a day of protests around central London.
---
Support Free & Independent Journalism 
Your support helps protect our independence so that The Deplorable Patriot can keep delivering top-quality, independent journalism that's free to everyone. Every contribution, however big or small, helps secure our future. If you can, please consider a recurring monthly donation.
[wpedon id=441]
Hits: 8