---
Bringing a World Of News To the World Wide Interweb!
---
House Democrat Sits On Steps To Protest White Supremacist Storming The Capitol But They Never Showed Up…
Biggest hoax since Covid 19. Actually, I have more respect for him than the rest of the cowards. (Even though he knew nothing was going to happen.)
Via The Hill:
Rep. Al Green (D-Texas) is sending a message to QAnon and right-wing extremist threats by sitting on the Capitol steps on Thursday, the date authorities warned militia groups were potentially planning another breach of the building.

"I want to make a statement to let people know, those who would threaten those of us who cherish this freedom that we have here that we refuse to allow those threats to negate our freedom," he told The Hill.

Capitol Police and the FBI have cautioned that militia groups that took part in the deadly insurrection at the Capitol on Jan. 6 — when a group of Trump supporters attempted to disrupt the certification of the Electoral College votes — had drafted plans for a second attack on March 4.

Some conspiracy theorists have spread the idea that former President Trump will be inaugurated on that date, despite losing the November presidential election.
---
Migrants Wearing Joe Biteme Shirts Walking Towards Border…
Look everybody it's the Joe Biteme fan club….
---
Former Cuomo Aide Says He Groomed Her For Sex, Said He Was Lonely, Asked If She Liked Older Men…
Via News Max:
Charlotte Bennett, 25, a former executive assistant to Gov. Andrew Cuomo, is making her first televised allegations, saying she believes she was being "groomed" for sex.

Bennett's exclusive interview with Norah O'Donnell on "CBS Evening News" is set to air Thursday.

In a preview posted on Twitter, O'Donnell details how Bennett repeats the claims that Cuomo, 63, "asked her about her sex life" and whether "she had sex with older men" and "told her he was lonely."
---
Connecticut To Remove Restrictions, Re-Open Indoor Dining At Full Capacity…
Welcome to Neanderthal North
Via Hartford Courant:
Gov. Ned Lamont on Thursday announced that he will soon roll out an expansive reopening plan for Connecticut, including allowing restaurants to operate at full capacity, loosening rules on sports and entertainment venues and lifting the travel ban.

Most of the changes will go into effect on March 19, with several more coming down the line over the following two weeks. The decision comes as President Joe Biden warns states not to move fast on reopening. Lamont said the decision was a result of Connecticut's dropping COVID-19 metrics.

Under the reopening plan, restaurant, retail stores, houses of worship and a number of other places will be allowed to reopen at full capacity, but with masks and social distancing requirements as well as a curfew for restaurants. Bars must remain closed.
---
Joe Biteme Justice Dept Quietly Dismissing Hundreds Of Cases Against BLM/Antifa Rioters…
---
China Now Using Emotion Recognition Technology For Surveillance…
Say what…?
Via Ny Post:
China has been ramping up surveillance known as "emotion recognition technology" in order to monitor human feelings — and help them with law enforcement, according to reports.

Emotion recognition technology tracks traits such as facial muscle movements, vocal tone and body movements in order to infer a person's feelings, the state-run Global Times reported.

"Emotion recognition is definitely the direction of humanity's future tech development," Ma Qingguo, who is head of the Academy of Neuroeconomics and Neuromanagement at Ningbo University, told the outlet.

Some Chinese experts boast that the new technology is up to 95 percent accurate at detecting people's emotions.
---
BREAKING: Right Side Broadcast Network Banned From YouTube, All Copies Of Trump's Speech Banned From Site As Well…
---
The Threat From Q-Anon Followers And Militia That Caused Congress To Flee The City Ended Up Being Absolutely Nothing…
That's shocking….
---
Alec Baldwin Finally Deletes His Twitter Account And Thank God For That…
He sure can dish it out but can't take it.
Via NME:
Alec Baldwin has deleted his Twitter account following a backlash to a tweet he posted about Gillian Anderson.

This week, Baldwin tweeted a link to a CNN story titled 'Gillian Anderson's American accent throws some people off', referencing Anderson speaking in her natural American accent at last week's Golden Globes, despite usually speaking with a British accent in her roles.

After tweeting out the story and adding the caption: "Switching accents ? That sounds…fascinating," users criticized Baldwin for what they deemed to be an unnecessary and spiteful comment.
---
Alabama Is Done With Masks April 6th…
FREEDOM!
Via CNBC:
Alabama plans to on April 9 lift a statewide order requiring people to wear masks in public, even as Gov. Kay Ivey extends the state's health emergency proclamation for Covid-19 by 60 days.

"Let me be abundantly clear, after April 9, I will not keep the mask order in effect," Ivey said Thursday.

Ivey extended the mask order and other health measures that were set to expire March 8 to give businesses enough time to institute their own policies, she announced at a news conference. The governor urged residents to continue wearing face coverings, even though the state will no longer mandate them.

"While I'm convinced a mask mandate has been the right thing to do, I also respect those who object and believe this was a step too far in government overreach," Ivey said.
---
Watch: The Movie Industry Filming Continues In Toronto Canada While Everyone Else Must Stay Locked Down…
---
John Kennedy Is One Seriously Funny Congressman…
I love this guy!!!!!
---
Over 300 Illegal Alien Minors Arrive Each Day In America Under Uncle Joe…
Just in time to learn to read with Dr. Seuss.
Via NY Post:
The number of unaccompanied child illegal immigrants crossing the southern border has exploded in the first few months of the year, with more than 300 minors arriving every day on average — an amount that threatens to overwhelm the Biden administration's already extended resources, according to a report on Thursday.

An average of 321 children have been referred to the custody of Health and Human Services daily by the Border Patrol, according to numbers for the week ending March 1, Axios reported, a significant uptick from the weekly average of 203 in late January and early February.
---
Vanity Fair Attacks The States Of Texas & Mississippi…
---
Florida Man Gets 20 Years In Prison For Cutting Off His Wife's Boyfriends Pecker…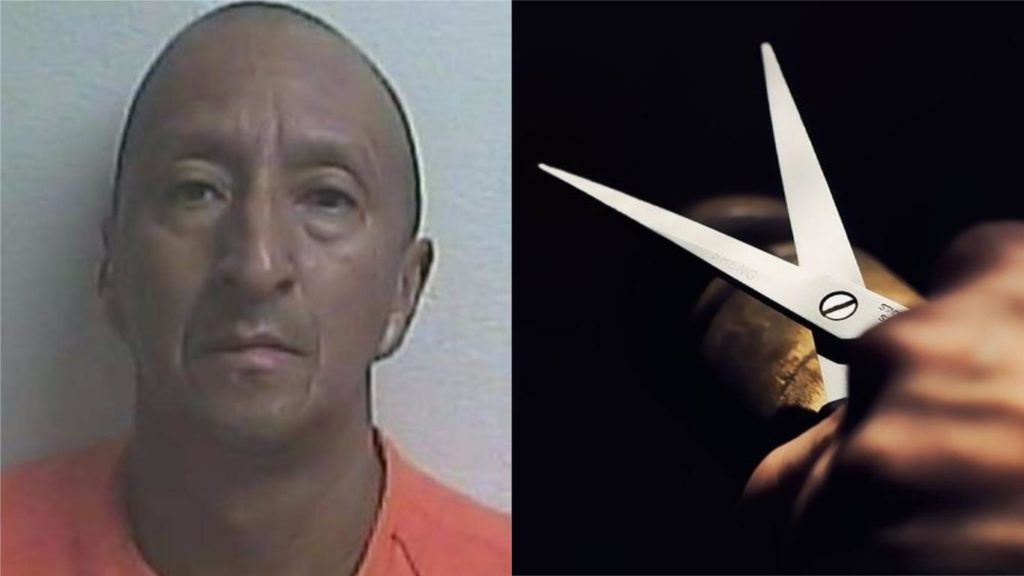 Via NY Post:
A Florida man will spend two decades behind bars for pulling a gun on his wife's lover and cutting off his penis with a pair of scissors.

Alex Bonilla, 51, was ordered to spend 20 years in prison for the July 2019 attack at a home in Bell, news station WKMG reported Wednesday.

Bonilla allegedly barged into his neighbor's home, where he proceeded to threaten the man with a handgun and metal pipe.

He then forced the man into the bedroom and tied him up before he "forcefully cut off the victim's penis with a pair of scissors," officials said.

The married father allegedly told the man, "This is normal, you will not die today," the Smoking Gun reported.
---
North Carolina Cop Slams K-9 Partner Into SUV In Disturbing Video…
WTF?
Via NY Post:
A North Carolina police officer swung his K-9 partner over his shoulder by a leash and slammed the dog into a vehicle, disturbing video shows.

The clip shows an unnamed Salisbury cop giving a command to his police dog, Zuul, after the animal exited an SUV during a training session.

The officer then approached the animal and put a leash on the dog before lifting it up by the neck and slamming the pooch into the side of the vehicle, video obtained by WJZY shows.

"We're good, no witnesses," an onlooker said as the officer dragged the animal back to the SUV.

"Stay!" the cop yelled at the dog once putting the animal back into the SUV. The officer also appeared to hit the dog while giving the command, video shows.
Pelosi Claims Imaginary Threat To Capitol Had Nothing To Do With Hastened Voting Yesterday…
---
Liberals Quickly Begin Deleting Tweets Praising Governor Cuomo…
Rats from a sinking ship…
Via NY Post:
Liberal pundits and reporters who showered New York Gov. Andrew Cuomo with praise and accolades are backtracking amid a pair of high-profile scandals that have tarnished his political future

Cuomo has been accused of sexual harassment or unwanted sexual advances by multiple women while still under fire over his handling of nursing home deaths during the COVID-19 pandemic. Suddenly, the former media darling is facing calls to step down from critics on both sides of the aisle and Empire State lawmakers have moved to repeal his executive powers.

Daily Beast editor-at-large Molly Jong-Fast once penned a featured about her coronavirus-era crush on the governor. "All of a sudden, I love Governor Cuomo, his soothing Queens accent, his stories about his dad Mario," Jong-Fast wrote in March 2020.
---
NY Renter Discovers A Hidden Apartment Behind Her Bathroom Mirror…
I have a reoccurring dream just like this story. That's too weird.
Via NY Post:
Supernatural squatters?

A New York City woman is convinced her apartment is haunted after uncovering a creepy hidden room straight out of a horror flick. She documented the spine-tingling discovery in a series of TikTok videos that have collectively amassed millions of views.

"Seriously never would I have expected to find this…and I documented all of it," writes Samantha Hartsoe in a caption for the first clip, which boasts a staggering 7.4 million watches.

In the bone-chilling video, entitled "A New York Mystery," the perplexed renter reveals that she had felt cold air blowing from her bathroom — despite the fact that it has no vent. Initially thinking nothing of it, she became intrigued after discovering that the draft was coming from behind the bathroom mirror.
---
Brother can you spare a dime to support independent media?
Unlike the Lame Stream Media we are NOT funded by Bill & Melinda Gates, or George Soros. So a few coins in our jar to help us keep going are always appreciated. [wpedon id=441]
Hits: 37