---
Get the Latest Breaking News From The Deplorable Patriot
---
Recall Newsom Comes Closer to Reality
We can do this!
Organizers for the campaign announced yesterday that they had collected more than 1.8 million signatures, or roughly 300,000 more than is necessary to trigger a recall election. They need to collect more than is necessary in case some signatures do not belong to registered voters.
---
L.A. County Passes Ordinance Requiring $5 'Hero Pay' For Grocery Workers
This is a straight up payoff to the grocery workers union by LA County politicians. Let this be a lesson to everyone in how the payoffs & money laundering works in local politics. And check out the audacity of these maggots. The public is outraged, but the corrupt politicians could give a shit!
Via ABC 7
The Los Angeles County Board of Supervisors voted 4-1 Tuesday to adopt an urgency ordinance requiring national grocery and drug retail employers in unincorporated areas of the county to pay frontline workers an additional $5 per hour hazard or "hero pay" for the next 120 days.

Supervisor Kathryn Barger voted against the measure, to take effect at midnight Feb. 26, citing unintended consequences and a concern that the ordinance only covers a "small sliver" of the essential workforce.
---
Dr. Seuss Canceled For 'Racial Undertones'
The man was a socialist, but hey, who cares.
Via The Daily Wire
A national educators organization is telling schools to avoid reading Dr. Seuss because the children's books allegedly have "racial undertones." 

For more than 20 years, March 2 has been recognized as Read Across America Day in honor of Dr. Seuss's birthday. The reading recognition day was founded by the National Education Association — the nation's largest labor union — in 1998. This year's theme is "Create and Celebrate Diversity."
---
Pelosi Payoff Bill is the Swamp Taking Care of the Swamp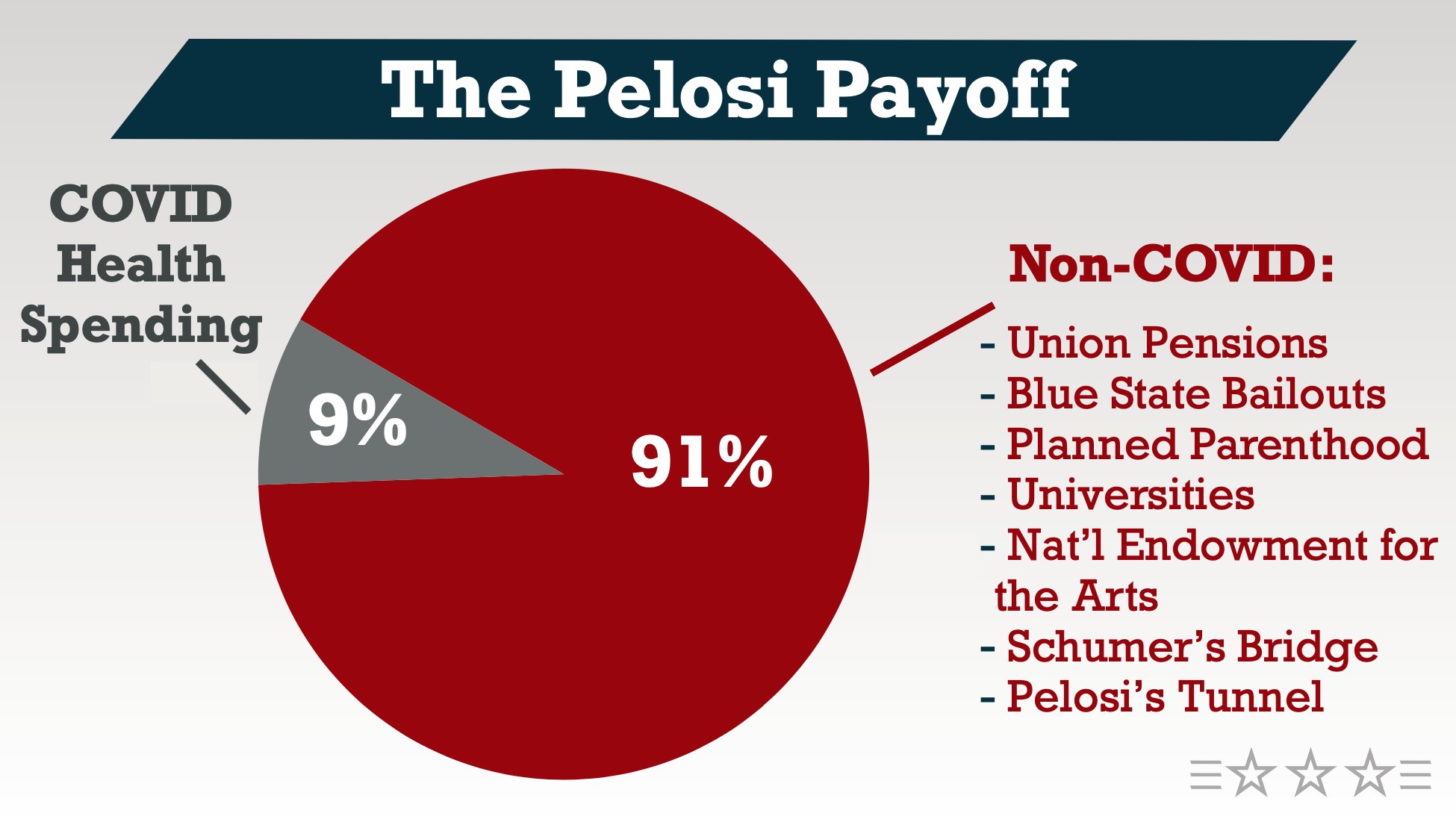 The amount of money that actually goes to defeating the virus is less than 9 percent – Less than 9 percent!
Via Roll Call
House Democrats passed a massive pandemic aid bill early Saturday morning over solid Republican opposition, a key step toward giving President Joe Biden his first major legislative victory.
The 219-212 vote sends the $1.9 trillion package to the Senate, where it is certain to undergo changes next week.
A provision that would more than double the federal minimum wage must be stripped from the package, based on guidance from the Senate parliamentarian. Senate Democrats were prepping an alternative to try to get around budget rules by taxing employers that don't pay higher wages, but it wasn't clear if that effort would pass muster under the "Byrd rule" either.
---
White House To Begin "Enhanced Screenings" For Ebola Virus At Airports…
Via Yahoo:
The Biden administration is moving forward with plans to screen airline passengers from two African countries arriving in the U.S. for Ebola, which will involve sending them to one of about a half dozen designated airports.

The Centers for Disease Control confirmed the plan Friday evening, several hours after Yahoo News first reported that administration officials were finalizing details of how the screenings would work. "Out of an abundance of caution," the U.S. government will institute public health measures for the very small number of travelers arriving from the [Democratic Republic of Congo] and Guinea," the CDC said in a statement.
---
Tina Fey Says Golden Globes Will Be Politics Free For Once…
Via Page Six:
Get ready for a kinder, gentler Golden Globes now the king of cringe Ricky Gervais has retired his hosting role: Tina Fey says she and co-host Amy Poehler won't get political.

Fey told Jill Rappaport on her "Rappaport to the Rescue" podcast, "We just want to make it a fun hang out for people at home — kind of a stress reliever, so I don't think you can expect much politics at all. "

She added, "It doesn't seem like a venue for political jokes."
---
DOJ Opens Door To Getting New Powers For Itself Over Terrorism…
Via Yahoo:
A senior Justice Department official opened the door to seeking new legislative authorities to pursue domestic terrorism, a step the Biden administration has yet to entertain since the January 6 insurrection and something civil libertarians have warned against.

The prospect of expanded investigative and prosecutorial tools arose during a Friday briefing with reporters in which multiple Justice Department and FBI officials described an expansive array of authorities already available to them.

While there is no domestic terrorism statute, and U.S. officials can not designate a domestic group for sanction like they can a foreign one, one senior official acknowledged that statutory definitions of domestic terrorism "expand a lot of authorities we can use," such nationwide search warrants, expanded law-enforcement access to tax and educational records, and harsher sentencing.
---
12 Year-Old Girl Arrested For Selling Stun Guns To Classmates…
Via Smoking Gun:
FEBRUARY 26–A 12-year-old Florida girl is facing criminal charges after she admitted to selling stun guns to classmates, police report.

According to investigators, a staff member at Coleman Middle School in Tampa today alerted administrators that pupils had reported that a female student possessed a stun gun on campus.

In response to the tips, a school resource officer removed the young suspect from class and questioned her about the weapon allegations. The girl, cops say, admitted to purchasing five stun guns online and bringing them to school this week for resale to fellow students.
---
John Durham Resigns…. And Good Riddance!
After doing what exactly…? Everybody in the DOJ is useless.
Durham's resignation is effective midnight Sunday.

The website for DOJ's special counsel's office notes Durham is leading it, and now lists him as running the investigation out of the Main Justice building on Pennsylvania Avenue. Dena Iverson, the principal deputy director for DOJ's office of public affairs, confirmed with the Washington Examiner that Durham is still remaining in his special counsel role.
---
America Drops Its Objections To A Global Internet Tax…
Via Yahoo:
US Treasury Secretary Janet Yellen told her G20 colleagues Friday that Washington is dropping a push for a controversial provision in a global digital tax, opening the door to a likely agreement.

The US shift — part of a broader repositioning by President Joe Biden from the "America First" agenda of former President Donald Trump — prompted immediate praise from Germany and France, which said a deal was now "within reach" following the US pivot.

Yellen announced at the G20 finance ministers meeting that US officials "will engage robustly" in the talks and "is no longer advocating for 'safe harbor' implementation of Pillar 1," a Treasury official told AFP.
---
---
U.S. Believes Saudi Crown Prince Ordered Brutal Murder Of Washington Post Journalist…
Just like 9/11. They literally funded it and absolutely NOTHING happened to me. The elites covered it up and the rich got richer off that oil.
Via US News:
The crown prince, widely considered the de facto leader of the kingdom, "approved an operation in Istanbul, Turkey to capture or kill" the U.S. resident and columnist for The Washington Post, according to the report.

"We base this assessment on the Crown Prince's control of decisionmaking in the Kingdom, the direct involvement of a key advisor and members of Mohammed bin Salman's protective detail in the operation, and the Crown Prince's support for using violent measures to silence dissidents abroad, including Khashoggi," the report states. "Since 2017, the Crown Prince has had absolute control of the Kingdom's security and intelligence operations, making it highly unlikely that Saudi officials would have carried out an operation of this nature without the Crown Prince's authorization."
---
---
Warmongers At Pentagon Stand By Syrian Strike Despite Numerous Legality Questions…
Don't worry, the NeoCons now dressed as Democrats have assured us this is going to be a fun war.
Via US News:
THE DEFENSE DEPARTMENT on Friday stood by its strike the night before against what officials say was an Iranian-backed militia position in Syria, despite international criticism and growing skepticism in Congress about its legality.

"The purpose for striking these targets was twofold: One, clearly, to try to make an impact on these groups and their ability to conduct future attacks," Pentagon spokesman John Kirby told reporters Friday afternoon. "And two, to send a very clear signal that the U.S. is going to protect its people, it's going to protect its interests and it's going to protect its partners in the region."
---
At least Joe Biteme's consistent. A consistent idiot!
---
---
8 Russian Diplomats & Their Families Were Forced To Use A Hand Car From The 1920s To Leave North Korea…
They're Russian so they're used to old ass technology.
---
---
Joe Biteme Plans Tent City For Illegals…
No worries. He's a Democrat, it's not a problem now.
Via Stamford Advocate:
WASHINGTON – U.S. border officials are preparing to open another tent facility in Del Rio, Texas, to cope with soaring numbers of migrant families and children crossing into the United States in recent weeks, according to two Homeland Security officials involved in the planning.

The temporary facility is expected to open in the coming weeks and will be used by U.S. Customs and Border Protection, which opened a similar "soft-sided" structure in Donna, Texas, three weeks ago. That facility and other Border Patrol facilities are under increasing capacity strain from the burgeoning influx of Central American minors and family groups in U.S. custody.
---
---
Europe Will Require "Vaccine Certificates" By Summer…
Orwellian garbage.
Via DW:
Leaders from the European Union's (EU) 27-member states came to together for a virtual summit on Thursday with the aim of solving pressing coronavirus-related health and logistical problems confronting the bloc.

Member state politicians used the meeting to discuss approaches to speeding up the delivery of vaccines, the implementation and use of vaccine passports and the potential for conflict arising from national border closings.
---
---
Watch CNN's Jim Acosta Get Shredded For Kissing Gov Cuomo's Ass For A Whole Year At CPAC…
Looks like Acosta got accosted….LOL
---
---
Never Trumper David French Is Real Asshat…
What a total asshat. I'd like to point out that David French was once going to challenge Trump for GOP nomination but chose not to when people started digging into his personal life and his screwed up marriage. Wonder what he was hiding…things that make you go, hummmmmm
---
Lincoln Project Staffer Served As A Paid Campaign Staffer For Jon Ossoff & A Lincoln Project Employee…
Via FreeBeacon:
A high-ranking Lincoln Project employee served as a paid campaign staffer for Georgia senator Jon Ossoff (D.) while he received payments from both groups, a potential violation of laws that prohibit coordination between campaigns and super PACs.

The Lincoln Project and the Ossoff campaign paid Democratic consultant Keith Edwards during the closely watched Georgia runoffs that tipped the scales of the Senate to Democrats.

Edwards said he left his post as the Lincoln Project's communications director in November to become senior digital adviser for the Ossoff campaign, but records show his consulting firm, That's Good Media, received at least $20,000 from the Lincoln Project while Edwards was employed by the campaign, Federal Election Commission records show.
"We Gotta Be LESS WHITE" Buddy Brown
Freakin' Funny!
---
LOL: FBI Says They're Investigating If Lady Gaga's Dog Was Kidnapped Because She Sang At Biden's Inauguration…
Can you believe this is how they spend our tax dollars? Investigating a dognapping?
Via The Sun:
INVESTIGATORS are probing whether the kidnapping of Lady Gaga's bulldogs was politically motivated because she sang at President Joe Biden's inauguration.

FBI officials specialized in kidnapping and ransom cases are working with Los Angeles Police Department detectives, The Sun learned on Thursday.
---
Schools Working Overtime To Find Students Who Aren't Showing Up For School Anymore…
Via News Times:
DETROIT – Kenneth Chapman Sr. was hopeful as he navigated a hulking Detroit Public Schools van down the street, pulling up to a brick home. Out front, there were signs that the girl he was looking for lived inside. Amid the discarded plastic cups in the yard, there was a ball, and on the porch a small bike, painted fluorescent pink.

"Normally when I get to the house and I see toys or bikes, I think, 'OK, somebody's going to be here,' " Chapman said.

But when he knocked, no one appeared.

This was one of the two dozen stops Chapman, who works in the school system's Family and Community Engagement Office, would make, looking on this chilly day in late October for students who had been missing classes. Some of the children on the list had worrisome numbers of absences this early on in the school year. But there were 3,000 students the district c
---
Washington State School Forces Kids Into "Band Pods" Over COVID Fear…
I thought this was a joke, it's not.
Via WENATCHEE WORLD
You can't see them smiling beneath the masks, but students at Wenatchee and Eastmont high schools are glad to be back in school, even if it's only part-time.

Eastmont high students have been back since Jan. 25 and Wenatchee high students since Jan. 26, each on a different hybrid schedule.

"It is amazing the level of energy in the building, having adults interacting with kids but also the conversations of adults to adults," said Wenatchee Principal Eric Anderson. "You get kids back in the building, you get a lot of smiles even with masks on. You can tell people are happy."
---
Capitol Police Chief Warns: "Extremists" Want To Blow Up Capitol During Biden State Of The Union…
So basically he will never have to leave the White House.
Via NBC:
WASHINGTON — U.S. Capitol Police plan to maintain their enhanced level of security around the Capitol at least through President Joe Biden's first official address to Congress because intelligence suggests that extremists could be planning an attack, acting Chief Yogananda Pittman said Thursday.

"We know that members of the militia groups that were present on January 6th have stated their desires that they want to blow up the Capitol and kill as many members as possible with a direct nexus to the State of the Union, which we know that date has not been identified," she told members of Congress, referring to Biden's coming first address to a joint session of Congress.

"So based on that information, we think that it's prudent that Capitol Police maintain its enhanced and robust security posture until we address those vulnerabilities going forward," she said.
---
U.S. Diplomats Subjected To Anal COVID Swabs In China, Turns Out It Was All A Joke…
Via NBC:
U.S. diplomats in China were subjected to anal swab tests for Covid-19, a Department of State spokesperson confirmed Thursday, adding that a protest had been lodged with the Chinese Ministry of Foreign Affairs.

The United States had received assurances from China that the tests were done in error and that diplomatic personnel were exempt from this specific testing requirement, the spokesperson said.

"The Department is committed to guaranteeing the safety and security of American diplomats and their families while preserving their dignity, consistent with the Vienna Convention on Diplomatic Relations, as well as other relevant diplomatic law provisions," the spokesperson said.
---
Support Free & Independent Journalism
Your support helps protect our independence so that The Deplorable Patriot can keep delivering top-quality, independent journalism that's free to everyone. Every contribution, however big or small, helps secure our future. If you can, please consider a recurring monthly donation.
[wpedon id=441]
Hits: 10