Only a handful of Republican senators are standing up in opposition to President Biden and Majority Leader Chuck Schumer's massive dumpster fire of an infrastructure bill.
"I wasn't elected by the people of Tennessee to be the most popular person in the Senate. I was elected to stand up for their interests," Sen. Bill Hagerty told the Washington Times. "I can't in good conscience vote to accelerate a flawed bill that puts us another quarter of a trillion-plus in debt, especially when we haven't had an opportunity to dig in and understand its substance or economic ramifications."
Trump warned Mitch McConnell that they are about to hand Democrats a gift – "a 2,700 page bill that no one could have possibly read."
"Joe Biden's infrastructure bill will be used against the Republican Party in the upcoming elections in 2022 and 2024. It will be very hard for me to endorse anyone foolish enough to vote in favor of this deal," the former president said.
The main issue here is there's very little spending in the bill on actual infrastructure.
"Mitch is playing right into Nancy's hands, not to mention the fact Chuck Schumer is already going around saying this is a big victory for the Democrats," Trump said. "Whether it's the House or the Senate, think twice before you approve this terrible deal. Republicans should wait until after the Midterms when they will gain all the strength they'll need to make a good deal, but remember, you already have the card, it's called the debt ceiling, which the Democrats threatened us with constantly."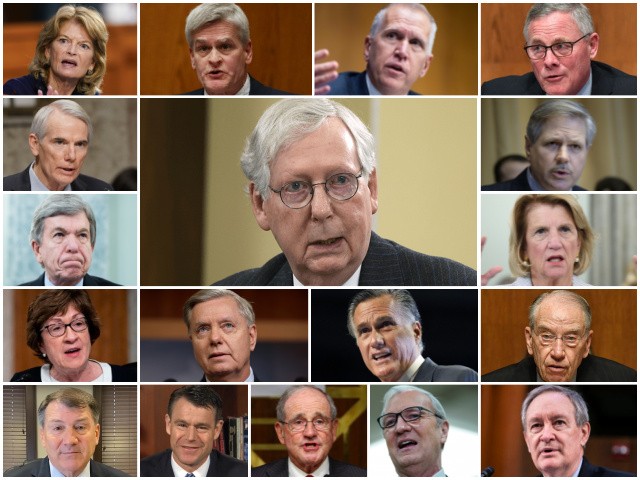 Here's a list of Republican senators who voted alongside Democrats to advance Biden's bill:
Mitch McConnell – Kentucky
Roy Blunt – Missouri
Shelley Moore Capito – West Virginia
Bill Cassidy – Louisiana
Susan Collins – Maine
John Cornyn – Texas
Kevin Cramer – North Dakota
Mike Crapo – Idaho
Chuck Grassley – Iowa
John Hoeven – North Dakota
Deb Fischer – Nebraska
Lisa Murkowski – Alaska
Rob Portman – Ohio
Jim Risch – Idaho
Mitt Romney – Utah
Thom Tillis – North Carolina
Todd Young – Indiana
Mike Rounds – South Dakota
Hits: 65