---
The Smart Choice for Deplorable Aficionados
---
Ted Cruz Announces He's Not Wearing a Mask in the Capitol Anymore…
He's been vaccinated and if the vaccines work there's no reason why he should.
---
PEW Hilariously Claims Joe Biteme's Approval Rating Sits At 60%…
lmao, come on man.
Via Pew:
Joe Biden approaches the 100-day mark of his presidency with a relatively strong job approval rating and the public continuing to express positive views of the coronavirus aid package passed by Congress last month. Moreover, nearly three-quarters of Americans (72%) say the Biden administration has done an excellent or good job managing the manufacture and distribution of COVID-19 vaccines to Americans.
---
COVID-19 Much Deadlier In Brazil Than India And No One Knows Why…
Maybe it's be cause there's more Indians than Brazilians? Or maybe the virus is racist. Everything else is racist these days…
Via Chicago Tribune:
Facing a sudden surge in coronavirus infections, India is once again home to the world's second-largest outbreak, overtaking Brazil after the latter moved ahead in March. But behind the bleak statistical jockeying is an epidemiological enigma over why the Latin American country has been far more devastated by the pathogen.
When it comes to the scale of infections, the two nations are similarly matched, with cases hovering near 14 million and hospitals from Mumbai to Sao Paulo under increasing pressure as admissions continue to rise. But it's the divergence in fatalities that has scientists puzzled. Brazil, home to almost 214 million, has seen more than 361,800 people die from COVID-19, more than double the number of deaths in India, which has a far greater population of 1.4 billion.
---
NBC News Claims It Infiltrated Facebook Groups For Special Forces Members And They're All Racists…
Well, of course they are, everything and everyone is racist.
Via NBC:
WASHINGTON — They're the most elite, lethally trained members of the U.S. military, widely considered the best of the best. And yet in secret Facebook groups exclusively for special operations forces that were accessed by NBC News, they share misinformation about a "stolen" 2020 election, disparaging and racist comments about America's political leadership and even QAnon conspiracy theories.
Among the hundreds of Facebook posts NBC News reviewed from forums for current and former Rangers, Green Berets and other elite warriors: a member of a special forces group lamenting that several aides to former Vice President Mike Pence were part of a "Concerted effort by the thieves and pedophiles walking the hallowed halls of the peoples government" to undermine former President Donald Trump.
---
France Outlaws Sex With Children Under 15…
Wait, you mean it wasn't illegal already?
Via Reuters:
PARIS, April 15 (Reuters) – The French parliament on Thursday adopted legislation that characterises sex with a child under the age of 15 as rape and punishable by up to 20 years in jail, bringing its penal code closer in line with many other Western nations.
While the age of consent was previously 15, prosecutors in France used to be required to prove sex was non-consensual to obtain a rape conviction.
"This is an historic law for our children and our society," Justice Minister Eric Dupond-Moretti told the National Assembly.
"No adult aggressor will be able to claim the consent of a minor younger than 15-years-old."
The vote in favouor of the bill was unanimous at its final reading, the Assembly said on Twitter.
There had been concerns from some lawmakers that an age of consent below which sex automatically constituted rape might criminalise a consensual sexual relationship between a minor and a person only a few years older.
As a consequence, a "Romeo and Juliet" clause that allows for sexual relations between a minor and an individual up to five years older. The clause will not apply in cases of sexual assault.
The legislation also considers incestuous sex with a minor under 18 to be rape.
---
8 Dead At FedEx Facility In Indianapolis…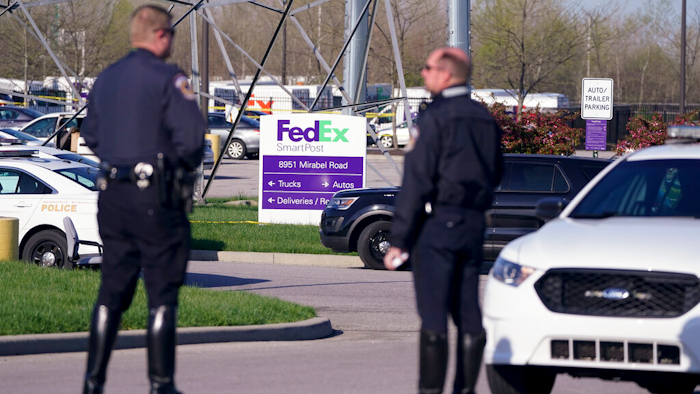 Why are they being so tight lipped about this one????
Via AP:
INDIANAPOLIS (AP) — A gunman killed eight people and wounded several others before apparently taking his own life in a late-night attack at a FedEx facility near the Indianapolis airport, police said, in the latest in a spate of mass shootings in the United States after a relative lull during the pandemic.
Five people were hospitalized after the Thursday night shooting, according to police. One of them had critical injuries, police spokesperson Genae Cook said. Another two people were treated and released at the scene. FedEx said people who worked for the company were among the dead.
---
The Hill.com Is Angry Immunized Sen Ted Cruz Won't Wear A Mask Anymore…
My guess is this reporter is one of those types that wears his mask in the shower.
Via The Hill:
Sen. Ted Cruz (R-Texas) said on Thursday that he will no longer be wearing a mask at the Capitol since he is fully vaccinated.
"At this point I've been vaccinated. Everybody working in the Senate has been vaccinated," Cruz told CNN. "CDC has said in small groups, particularly with people who were vaccinated, don't need to wear masks."
Cruz and many other lawmakers have been fully vaccinated against the virus, but the Center for Disease Control and Prevention is still recommending vaccinated people wear masks in large groups of people since many have not been fully vaccinated yet.
Some Capitol staffers and reporters are still waiting to be fully vaccinated, with one reporter asking Cruz last month to wear a mask during a press event.
"Uh, yeah, when I'm talking in front of the TV cameras I'm not going to wear a mask," Cruz told the reporter. "And all of us have been immunized, so…"
---
Being Vaccinated Is Now A Cult…
What in the name of all that's holy…?
---
Democrat Sen. Markey Admits Court Packing Is A Partisan Power Grab: '4 New Seats' For Biden…
Democrats must abolish the filibuster to pack the court.
Democrats must pack the court to take away our guns.
Democrats must take our guns to force us into train cars
Democrats must force us into train cars to transport us to the camps.
Democrats must put us in camps to exterminate us.
Democrats must exterminate us to eliminate the possibility of another Trump Presidency.
---
Biden Press Secretary Psaki Reiterates Biden Open To Court Packing…
I thought it was "a bonehead idea?"
---
Supreme Court Expansion Bill Faces Serious Blocks…
Via Roll Call:
Before a quartet of Democratic members of Congress could take to the steps of the Supreme Court on Thursday to tout a new bill that would expand the number of justices from nine to 13, leaders of their party were already deflating that effort.
"I have no plans to bring it to the floor," Speaker Nancy Pelosi said of the measure, pointing instead to a 36-member commission President Joe Biden announced last week to study Supreme Court expansion and other issues with the federal courts.
"I'm not ready to sign on yet," said Senate Majority Whip Richard J. Durbin, who also runs the Judiciary Committee. "I think this commission of Biden is the right move. Let's think this through carefully. This is historic."
So the first question to Sen. Edward J. Markey at the Thursday news conference outside the high court was: "Where exactly do you go from here?"
---
WAPO Forced To Admit Being Outdoors In Florida Beaches May Not Be So Bad…
Via Washington Post:
The photos of Clearwater Beach, Fla., went viral last spring: people crowded on the sand, seemingly unconcerned about the deadly new contagion coursing across the world. Local officials, accused of fueling a public health crisis, quickly shut 35 miles of county beaches and left them closed for weeks.
What a difference a year makes. The beaches were even busier this year, but officials say there were no talks of closure. There was also far less outcry.
---
BREAKING: Texas House Approves Constitutional Carry, Bill Now Moves Onto Senate…
Via Fox Austin:
AUSTIN – The Texas House on Thursday gave an initial OK to a bill that would allow handguns to be carried without a permit, marking a win for gun rights activists who have for years pushed the measure at the Legislature but a blow to El Paso Democrats who have been fighting for gun safety measures since the 2019 massacre in their hometown.
The 84-56 vote came after several hours of some of the most emotionally charged debate yet this legislative session, with Democrats pleading to their colleagues to reconsider their position on the legislation.
House Bill 1927, spearheaded by state Rep. Matt Schaefer, R-Tyler, would nix the requirement for Texas residents to obtain a license to carry handguns if they're not prohibited by state or federal law from possessing a gun. Texans under current state law must generally be licensed to carry handguns, either openly or concealed.
---
Pfizer CEO Says The Vax Never Ends…
Via CNBC:
Pfizer CEO Albert Bourla said people will "likely" need a booster dose of a Covid-19 vaccine within 12 months of getting fully vaccinated. His comments were made public Thursday but were taped April 1.
Bourla said it's possible people will need to get vaccinated against the coronavirus annually.
"A likely scenario is that there will be likely a need for a third dose, somewhere between six and 12 months and then from there, there will be an annual revaccination, but all of that needs to be confirmed. And again, the variants will play a key role," he told CNBC's Bertha Coombs during an event with CVS Health.
---
13 Year Old Boy Shot By Chicago Police Officer Had A Gun On Him He Tried To Ditch…
Yes it sucks that a 13 year old boy is dead. But what sucks more is that someone raised him this way that lead to this inevitable end.
Watch the body cam for your self but I've highlighted the relevant parts in photos.
Here he is on video with the the gun in his right hand:
Here you can see the gun he tossed……
---
SHOCKING: Hunter Biden's Garbage Book Is A Total Flop…
Vía Showbiz 411:
The book is a lonely Hunter.
"Beautiful Things," the confessional memoir by Presidential ne'er do well son Hunter Biden is a flop after one week.
NPD Book Scan says the book, in Hunter whines about being a drug addict who slept around and has no memory of fathering a child, has sold just 10,000 copies in its first week. For a celebrity book with so much PR, TV appearances, etc, that's not a lot.
On Amazon, "Beautiful Things" is ranked at number 130 now 177.
Nevertheless, an early surge of sales based on Biden's appearance on "CBS Sunday Morning" puts "Beautiful Things" at number 4 on the New York Times Bestseller list that comes out today. But that will be short lived. Last week, "Rock Me on the Water," a terrible book about cultural trends in 1974, hit the list after its "Sunday Morning" plug. It's gone this week.
---
Man Stole CBS News Van, Went On Joyride Through Manhattan With It…
Via CBS:
NEW YORK (CBSNewYork) — A CBS2 news vehicle, a Mobile Weather Lab, was stolen while our crews were at work in Midtown on Tuesday.
It happened shortly before 4 p.m. on 50th Street between Ninth and Tenth avenues.
Surveillance video shows a man talking with one of our photographers.
He then walks across the street, appearing to leave, before heading back towards the truck, hopping in and taking off.
The suspect sideswiped a taxi at 50th and Fifth Avenue.
---
Support Free & Independent Journalism 
Your support helps protect our independence so that The Deplorable Patriot can keep delivering top-quality, independent journalism that's free to everyone. Every contribution, however big or small, helps secure our future. If you can, please consider a recurring monthly donation.
[wpedon id=441]
Hits: 13