By Howard Roark
---
Do you know the phrase, "Rules for thee, but not for me?" Nowhere does it apply more truthfully than in congress.
Nancy Pelosi's is worth an estimated $114 million, according to her 2018 personal financial disclosure, making her the seventh-richest member of the House of Representatives and the 10th richest overall, according to data tracked by the Center for Responsive Politics.
Her husband just made an excellent options trade. So, let's check it out.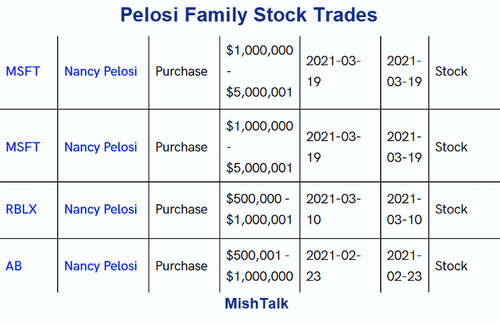 Legalized Insider Trading
It is perfectly legal for members of Congress to trade on inside information including government contracts before deals are announced. 
And that's exactly what House Speaker Nancy Pelosi did, well, her husband did.
Purchase of Stock Via Call Options
Barron's report is behind a paywall but here's the link Nancy Pelosi's Husband Bought Roblox, Microsoft Stock
Fox News also reports the same thing: Pelosi's Husband Bought $10M in Microsoft Shares Through Options. 
House Speaker Nancy Pelosi's husband purchased millions of dollars worth of Microsoft (MSFT) and Roblox (RBLX) shares last month, new financial disclosures form reveal.

Paul Pelosi exercised call options and paid $1.95 million to buy 15,000 shares of Microsoft at a strike price of $130 on March 19, according to an April 9th filing with the House clerk. That same day, Pelosi, who owns and operates a California venture capital investment and consulting firm, paid $1.4 million for 10,000 shares valued at $140 apiece.

Since Pelosi made the purchase, Microsoft share prices have climbed from about $230 to roughly $255 – an increase of close to 11% – after the company secured a lucrative government contract worth nearly $22 billion to supply U.S. Army combat troops with augmented reality headsets. The deal was announced on March 31.
Nancy Pelosi Wealth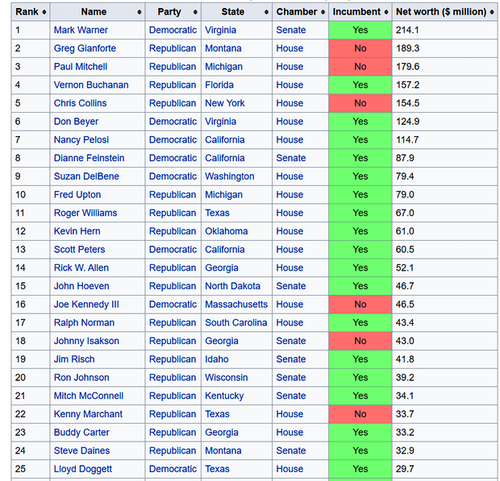 And Now The Question of the Day!
Q: How on earth did Nancy Pelosi become so wealthy?
Here's a thought…
It's Legal For Congress, But Not Legal For You
Here we have some recent Pelosi Insider Moves. The list shows the Microsoft call options.
Here we have a list of Senate Transactions you might want to look at.
Remember trading on insider knowledge is legal for members of Congress BUT not for you.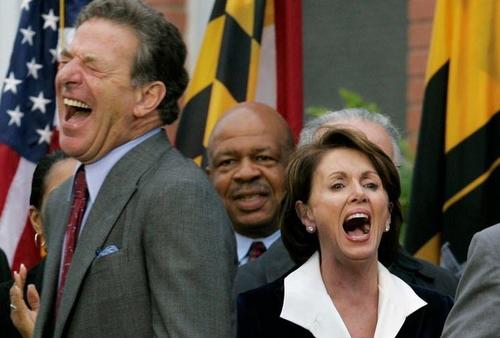 If you had knowledge of this type of deal and made the same trade, got caught, you would be fined, lose all your profits, and thrown into jail.
---
Author: Howard Roark is a Senior Fellow with the Kirby Institute.  He's an investor, a second amendment advocate, avid shooter, hunter, fisherman, fur trapper, writer, artist, poet, and inventor of the wall port central vacuum cleaner system. He is both a moral and a practical man and is fully committed to the artistic integrity of every one of his endeavors or projects whether working as a common laborer in a rock quarry or operating a Fortune 500 design firm.
---
Support Free & Independent Journalism 
Your support helps protect our independence so that The Deplorable Patriot can keep delivering top-quality, independent journalism that's free to everyone. Every contribution, however big or small, helps secure our future. If you can, please consider a recurring monthly donation.
[wpedon id=441]
Hits: 101